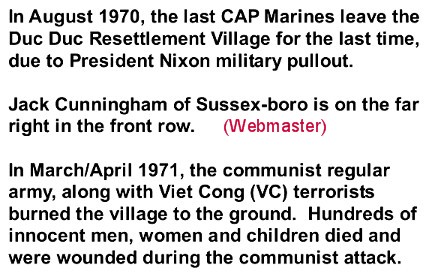 Webmaster & Disabled PTSD Vet Jack Cunningham Battles A Corrupt Law Firm And The Powerful State Officials,

Who Are Protecting Them:

The Veteran's Evidence - The Law Firm's Own Contact, Invoices, Supreme Court & Superior Court Filed Documents, Statements, Letters, Certifications, etc.
PLEASE TURN ON YOUR SPEAKERS TO HEAR THE SONG:
LOVE CAN BUILD A BRIDGE
By the JUDDS.
To hear it again, please press REFRESH.
There are more veterans wounded with PTSD than any other type of combat wound... According to Department of Veterans Affairs' (VA) estimates, there are over 98,000 new PTSD Vets. If it is true about this 98,000 new PTSD Veterans, then THE UNITED STATES CONGRESS SHOULD INVESTIGATE WHY THIS NUMBER IS SO HIGH.
The United States Military taught us many things,
but never taught us how to give-up and quit.
PLEASE PRESS ONE OF THE LINK TOPICS IN THE FAR RIGHT COLUMN.
Thank You
Jack Cunningham
PTSD Veteran Support· War_Zone_Related_Stress_Reactions
PLEASE JOIN OUR NEW DELPHI MESSAGE BOARD AND BECOME PART OF THE DISCUSSIONS AND THE ANSWERS. It is open to veterans, their families, their friends and all appreciative Americans.

Delphi forums is a tremendous system of message boards. Hundreds of thousands of Americans visit them everyday.
If you want, I'll send you a list of some large, good groups.
----- Original Message -----
GOD BLESS AMERICA
"The willingness with which our young people are likely to serve in any war, no matter how justified, shall be directly proportional to how they perceive veterans of early wars were treated and appreciated by our nation." - George Washington
"This Nation was founded by men of many nations and backgrounds. It was founded on the principle that all men are created equal, and that the rights of every man are diminished when the rights of one man are threatened."

President John F. Kennedy

Especially, if this person, who is being denied his or her rights, is a honorable disabled PTSD veteran.

It's time that PTSD veterans, their families, their friends and their supporters are heard.

This group is open to veterans as well as their families, their friends and appreciative-supporters. There is still a major stigma on PTSD veterans. PTSD Veterans need an advocacy group. We are a major, forgotten group of honorable veterans. The different levels of federal and state governments are our worse discriminators.

PLEASE JOIN OUR PTSD VETERAN ADVOCACY GROUP


Americans Who Support PTSD Veterans



It seems that there is an important need for an advocacy group of Americans Who Support PTSD Veterans. All too often, PTSD Veterans are forgotten by the federal government.

There are NO current disability accommodations for the PTSD disabled, so many PTSD disabled veterans are never heard.

It's time that PTSD veterans, their families, their friends and their supporters are heard.

------------------------------------------------