Credentials for Obama Acceptance Speech Depict Obama Wrapped in U.S. Flag of Distress - Photos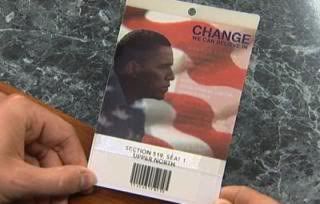 The credentials prepared for patrons who attend Barack Obama's huge pep rally at Denver's Invesco Field to hear his acceptance speech show him wrapped in a U.S. Flag that is -- upside down! An upside down America flag is known as a symbol of distress. Perhaps, Obama in an upside-down flag is accurate. America will be in great distress if he becomes President.
The poor DNCC is clueless about the problem - not even admitting there is a flag on the ticket:
Some viewers contacted 9NEWS Saturday, questioning the design of the credentials to see Sen. Barack Obama accept the Democratic Party's presidential nomination at INVESCO Field at Mile High.

The viewers say with the stars and blue field in the lower left corner, it looks like an upside down American flag. Published flag etiquette states the stars should always be displayed in the upper left corner. An upside down flag represents an international symbol of extreme distress.

Matt Chandler with the Obama campaign says the flag is not upside down. He says it is a stylized flag designed to blend the stars on Senator Obama's shirt with the flag blowing in the wind.

Natalie Wyeth with the Democratic National Convention Committee sent 9NEWS the following statement Saturday night: "The DNCC community credentials incorporate patriotic design elements. They do not depict an actual American flag. The DNCC has full and complete respect for the flag and all rules of display."
In their rush to try and wrap Obama in the flag to foster the belief he is a super-patriot, the Democrats are showing they don't even get the basics when it comes to respect for the Flag. In case they did not know, you really are not to use the flag as clothing either.
The U.S. Code, Title 4, Chapter 1, Sec. 8(d) states, "The flag should never be used as wearing apparel, bedding, or drapery.
The moral - Better to be a patriot with policies, actions, and in speech rather than try to literally wrap yourself in the flag to make up for what is lacking in reality.