Home
* BARACK OBAMA LAUNDRY LIST OF LIES *
Obama Truth Squads Carry Stench of Police State
al Qaeda leader Osama bin Laden had a valid argument for attacking America on Sept. 11, 2001.
Jane Fonda, the actress and ardent anti-Vietnam War advocate, endorses Barack Obama
Obama and former Weather Underground honcho (Ayers) funneled money to a known terrorist sympathizer.
CNN: Barack Obama Is Lying...
What's going to happen in 2010
Communist Goals for American Takeover, 1/10/1963 Congressional Record--Appendix, pp. A34-A35
Obama Gives Vets and Military Families the Middle Finger, Stands With Code Pink
* AMERICANS WORKING TOGETHER *
AMERICANS WHO SAY, "FUCK OUR TROOPS."
Barack Obama calls Non-Socialist Americans SELFISH
Obama's Special 845 BILLION DOLLAR World TAX For American Workers
Is Barack Hussein Obama a closet racist?
Obama Wants To Redistribute YOUR FAMILY'S Wealth, But HE Does NOT Redistribute His Wealth To His Own
Obama's Movie: The Plot to Overthrow the United States of America
What Does Barack Obama Really Mean By Spreading America's Wealth. He Wants $845 BILLION To Go To UN
Federal Immigration Law Enforcement Officers Called Terrorists By Barack Obama. DO YOU AGREE?
Michelle Obama: For the first time in my adult life, I am really proud of my country.
Obama's Pastor "The Italians for the most part looked down their garlic noses at the Galileans."
MEET SOME: Of Barack Hussein Obama II's Closest Radical-Friends
Young Voters Are Going To Pay For Barack Obama's Global Poverty Act
WHICH PRESIDENTIAL CANDIDATE REFUSES TO SALUTE THE AMERICAN FLAG
Barack Obama's Terrorists' Support
Obama Wants 845 BILLION DOLLARS Added to What America Already Gives The United Nations
The #1 reason to vote for John McCain
George Bush has been in office for 7 1/2 years.
Obamas Weathermen Pals Should Worry You - Youthful indiscretion does not cover mayhem and murder.
Barack Obama - Bill Ayers Fact Sheet.
The indictment of Rezko on federal charges has drawn attention to his relationship with Obama
Hitler/Obama Comparisons
CNN: Obama Lied During The Debate
Barack Obamas longtime mentor, Jeremiah Wright is keynote speaker at the annual Fight for Freedom
Bombing Terrorrorist Bill Ayers a relevant issue as it relates to Obama's pattern of relationships
Nation of Islam leader Louis Farrakhan says when Obama talks "the Messiah is absolutely speaking."
William Ayers said that he regrets that he had not bombed more U.S. targets
TALK SHOW HOST REVEALS OBAMA CONNECTION TO TERRORISTS
Bill Ayers' Weather Underground Terrorists Timeline Of Events
Ptl. Waverly "Chipper" Brown Was Killed By The Weather Underground
Fannie Mae CEO calling Obama and the Dems the "Family" and "Conscience" of Fannie Mae
VIDEOS: "Barack Obama & Friends: A History of Radicalism"
Think Before You Vote, But Please Make Sure You Vote, Regardless of What The Polls Have Been Saying
The Video that could cost Obama the election
~** Dear Fellow American **~
Teachers Wear Barack Obama's Campaign Buttons To Schools
Obama's Code Pink Fundraiser Met With Ahmadinejad
Former Obama fundraiser Rezko is talking to prosecutors
Which Barack Hussein Obama Do You Believe: The Liar or the one forced to tell the truth?
OBAMA TRIED TO STALL TROOP IRAQ WITHDRAWAL
** NO REGETS **
DEMOCRAT Senator Robert Menendez High Level Staff Member Admits to Perjury
The Company He Keeps - Meet Obamas circle: The same old America-hating Left
Barack Hussein Obama II Is Getting Confused What Religion He Is...
"Obama learned his lesson well"
** 2008 Standardized Testing For All Voters **
Barack Hussein Obama's Family Story And Pictures
Why would Barack Hussein Obama be friends with someone who bombed the Capitol and is proud of it?
Barack Hussein Obama's APPEASEMENT Statements Are Already Helping Radical Iran...
HILLARY CLINTON KNOCKED AT OBAMA'S CHURCH AGAIN
IN BARACK OBAMA'S OWN WORDS: I will stand with the Muslims...
Checkout Rev. Wright's Retirement Home It Pays Well To Be Obama's 20 Year Mentor.
American Flag Desecration Project - University of Maine
Barack Obama seemed puzzled. Angrily puzzled. The apostle of hope seemed flummoxed by the audacity..
* HILLARY CLINTON UNDER SNIPER FIRE *
What is it about Obama that Attracts Hamas, Communists, and Domestic Terrorists?
JIMMY CARTER: A FOOL's FOOL...
Obama and Hillary Accuse Each Other For Supporting American Home-Grown Terrorists
Recall New Jersey Governor Jon Corzine. Please press here for details.
McCain doesn't care about people because he was a Navy fighter pilot who dropped bombs
Middle America -- patriotic, proud, fiercely independent and straight-talking -- will give Obama...
BARACK OBAMA'S QUICK PULLOUT FROM IRAQ IS NOT THE ANSWER
Obama campaign has now admitted that Obama erred in crediting the Kennedys
Far reaching scandal heading for Obama
Barack Obamas longtime minister, mentor, sounding board has been a key supporter of Louis Farrakhan
THE EVIDENCE MOUNTS AGAINST BARACK OBAMA
McCain Mocks Barack Obama's Iraq Comments
Barack Obama_s Communist Mentor
* BILL AND HILLARY CLINTON *
UNDER CONSTRUCTION
Background: William Ayers was a member of the Weather Underground, a radical leftist group that from 1969 to the mid-'70s conducted several bombings of government institutions. Ayers served on the group's Central Committee. The Weather Underground bombed the U.S. Capitol, the Pentagon, military installations, and police stations. In all, seven people were killed. In 1981, two police officers and one security guard were killed by members of the Weather Underground in the robbery of a Brinks truck in New York state. After Ayers married Bernardine Dohrn, also a member of the Weather Underground (who was described by FBI Director J. Edgar Hoover as "the most dangerous woman in America"), they settled in Chicago.
Fact: Bernardine Dohrn had this to say in response to the Charles Manson murders, which she romanticized as a revolutionary coup at a Flint, Mich., Weatherman War Council in December 1969: "Dig it! First they killed those pigs, then they ate dinner in the same room with them. They even shoved a fork into the victim's stomach! Wild!" Dohrn later stated this was meant as a "joke."
Fact: In 1969, Bernardine Dohrn and other members of the Weather Underground traveled to Cuba and met with representatives of the North Vietnam and Cuban governments.
Fact: In 1970, Ayers explained what the Weather Underground was all about: "Kill all the rich people. Break up their cars and apartments. Bring the revolution home; kill your parents; that's where it's really at."
Fact: Both Ayers and Dohrn lived on the run from authorities from approximately 1970 to 1980. The case against Ayers and Dohrn was dropped due to illegal wiretaps and prosecutor misconduct. The FBI was conducting "black bag jobs," or illegal break-ins, in their pursuit of the Weather Underground. Some of these black bag jobs were authorized by Mark Felt, later to be known as "Deep Throat" of Watergate fame.
Fact: Shortly after turning themselves in, Dohrn and Ayers became legal guardians of the son of former members of the Weather Underground, Kathy Boudin and David Gilbert, after they were convicted of murder for their roles in a 1981 armored car robbery. Two police officers and one Brinks guard were killed in the robbery.
Fact: Starting in the mid-'90s, Ayers and Obama served on the board of the Chicago Annenberg Challenge Project. They served together on the board for approximately seven years. Ayers and Obama were tasked with the oversight of a $100 million budget. The board, under Obama's chairmanship the Annenberg project gave hundreds of thousands of dollars to Bill Ayers' projects promoting alternative schools. ["Anderson Cooper 360," CNN, Oct. 6, 2008]
Fact: From 1984 to 1988, Bernardine Dohrn was employed by the prestigious Chicago law firm Sidley Austin. She was hired by Howard Trienens, the head of the firm at that time and someone who knew Thomas G. Ayers, Bill's father. However, Dohrn's criminal record has prevented her from being admitted to either the New York or Illinois bar. "Dohrn didn't get a [law] license because she's stubborn . . . She wouldn't say she's sorry." [Chicago Tribune, May 18, 2008]
Fact: In 1991, Dohrn was hired by Northwestern University School of Law in Chicago, as an adjunct professor of law, with the title "clinical associate professor of law." Thomas Ayers was a long-time member of the Northwestern Board of Trustees, and was named life trustee in 1987. [Source: Feb. 7, 2008 speech to the Conservative Political Action Conference, CPAC]
Fact: In 1994, Dohrn was quoted on her political beliefs: "I still see myself as a radical." [Chepesiuk, Ron, "Sixties Radicals, Then and Now: Candid Conversations
With Those Who Shaped the Era," McFarland & Company, Inc]
Fact: In 1995, Obama's first autobiography is released. In it he writes of his years in college, associating with radicals. "To avoid being mistaken for a sellout, I chose my friends carefully. The more politically active black students. The foreign students. The Chicanos. The Marxist professors and structural feminists and punk rock performance poets . . . When we ground out our cigarettes in the hallway carpet or set our stereos so loud that the walls began to shake, we were resisting bourgeois society's stifling constraints. We weren't indifferent or careless or insecure. We were alienated." [Obama, Barack, "Dreams from My Father: A Story of Race and Inheritance, Random House, Pages 100-101]
Fact: In 1995, Ayers and Dorn opened their Chicago Hyde Park home to host a political coming-out party for Barack Obama, when he ran for the state Senate. Someone who was at this party for Obama wrote that Ayers and Dohrn were launching him, "introducing him to the Hyde Park community as the best thing since sliced bread." [Politico.com, Feb. 22, 2008]
Fact: From 1999-2002, Ayers and Obama served together on a second charitable foundation, The Woods Fund. While at the Woods Fund, they gave money to the Rev. Jeremiah Wright's church, which Obama attended, and a children and family center, where Dohrn worked. ["Anderson Cooper 360," CNN, Oct. 6, 2008]
Fact: In a 1996 interview, one year after hosting Barack Obama's coming-out party in their home, Ayers and Dohrn were profiled by "The NewsHour" on PBS. Ayers was asked, "Looking back, would you do it differently now?" He stated, "I doubt it . . . probably not."
Fact: Question to Obama in 2000, during his run for the U.S. Congress: "What is your argument, based on the one term that you served in the [Illinois] Senate so far, that makes you prepared for the Congress?"
Answer: "I would argue . . . my experience previous to elected office equips me for the job . . . I've chaired major philanthropic efforts in the city, like the Chicago Annenberg Challenge that gave $50 million to prompt school reform efforts throughout the city." [http://www.youtube.com/watch?v=D-45A6I-N5I&NR=1]
Fact: In 2001, Ayers made a $200 campaign contribution to Illinois state Sen. Barack Obama.
Fact: In promoting his book "Fugitive Days" Ayers told The New York Times on Sept. 11, 2001, "I don't regret setting bombs. I feel we didn't do enough." When asked if he would "do it all again," he said, "I don't want to discount the possibility."
Fact: Just days after 9/11, Ayers was quoted in The New York Times Magazine: "This society is not a just and decent place . . . We're living in a country where the election was stolen, and we didn't have a mass uprising. It's incredible. We're all asleep. The pundits all pat themselves on the back: 'God, what a great country'. . . It makes me want to puke."
Fact: In 2001, Ayers posed for a photograph in Chicago magazine, accompanying a profile of his book, which shows him stepping on an American flag. [www.chicagomag.com/Chicago-Magazine/August-2001/No-Regrets/]
Fact: In a 2001 profile, a writer quotes Ayers as saying, "I think there will be another mass political movement, because I believe that the kind of injustice that is built into our world will not go quietly into the night." [Chicago magazine, August 2001 online edition]
Fact: In his 2001 memoir, "Fugitive Days," Ayers writes of the time he took part in bombing the Pentagon. "Everything was absolutely ideal on the day I bombed the Pentagon. The sky was blue; the birds were singing. And the bastards were finally going to get what was coming to them."
Fact: In 2008, Ayers again denies he was ever a terrorist, writing on his blog: "The September 11 attacks were acts of terrorism, and the U.S. bombings in Viet Nam for a decade were acts of terrorism. Terrorism is never justifiable, even in a just cause . . . I've never advocated terrorism, never participated in it, never defended it. The U.S. government, by contrast, does it routinely and defends the use of it in its own cause consistently." [billayers.wordpress.com/2008/04/page/2/]
Fact: In the 2008 presidential race, Obama downplays his association with Ayers, saying that he is just a "guy who lives in my neighborhood." [The Washington Post, Oct. 7, 2008]
Fact: David Axelrod, Obama's chief strategist, attempted to downplay the Obama/Ayers relationship: "Bill Ayers lives in his neighborhood. Their kids attend the same school . . . They're certainly friendly; they know each other, as anyone whose kids go to school together." [Politico.com, Ben Smith, Feb. 26, 2008]
Fact: Obama's children never attended school with the Ayers children. Obama's children are ages 9 and 6. Ayers and Dohrn have two adult children, and they adopted a son from their fellow Weather Underground terrorist Kathy Boudin. That son was born in 1981.
Fact: Chicago's Hyde Park residents speak of Obama and Ayers' relationship. "Neighbors said it's only natural that Obama would know Ayers and Dohrn, who often open their homes for gatherings filled with lively discussions about politics, arts, and social issues. Obama and his wife 'are part of our neighborhood and part of our social circle,' said Elizabeth Chandler, a neighbor of Ayers'." [ChicagoTribune.com, April 17, 2008]
Barack Obama's American 845 BILLION DOLLAR Donation To The World's Poor
Please read Obama's Global Poverty Act bill, which is already before the United States Senate, on Barack Obama's official U.S. Senate website. Please read the bill closely. He is just waiting to be president.
http://obama.senate.gov/press/071211-obama_hagel_can
With so many Baby-Boomers retiring, America's YOUNGER voters will be paying Barack Obama's give-away for years to come.
New York Post
With so many Baby-Boomers retiring, America's YOUNGER voters will be paying Barack Obama's give-away for years to come.
Young Voters Are Going To Pay For Barack Obama's Global Poverty Act Before the United States Senate. I say young voters will be paying for this plan of Obama's, because the Baby Boomers are in the process of retiring.
This is even more money than the Bank Bailout for 700 Billion.
Barack Obama wants the United States to donate 845 BILLION Dollars to the United Nations to Help the World's Poor.
Please Check it out, before he removes it from his website.
(A copy is below.)
Please save a copy on your computer, so when it happens, you'll understand why Obama wants $2,725 from every American, including children, and people, who don't legally work in America. Where is this money coming from? And it seems to me that Obama wants the president of the United States to answer for this money. He'll have direct control of a special fund of 845 BILLION Dollars. I'm a little confused.
This is even more money than the Bank Bailout for 700 Billion.
Obama bill: $845 billion more for global poverty
Democrat sponsors act OK'd by Senate panel that would cost 0.7% of gross national product

---
Posted: February 14, 2008
3:53 pm Eastern

© 2008 WorldNetDaily
Sen. Barack Obama, perhaps giving America a preview of priorities he would pursue if elected president, is rejoicing over the Senate committee passage of a plan that could end up costing taxpayers billions of dollars in an attempt to reduce poverty in other nations.
The bill, called the Global Poverty Act, is the type of legislation, "We can – and must – make … a priority," said Obama, a co-sponsor.
It would demand that the president develop "and implement" a policy to "cut extreme global poverty in half by 2015 through aid, trade, debt relief" and other programs.
When word about what appears to be a massive new spending program started getting out, the reaction was immediate.
"It's not our job to cut global poverty," said one commenter on a Yahoo news forum. "These people need to learn how to fish themselves. If we keep throwing them fish, the fish will rot."
Read the rest of the story at: http://www.worldnetdaily.com/index.php?fa=PAGE.view&pageId=56405
-------------------------
Please Watch This Video:
Obama, Hagel, Cantwell Introduce Bill to Fight Global Poverty
Tuesday, December 11, 2007
FOR IMMEDIATE RELEASE
CONTACT: Amy Brundage (OBAMA), Jordan Stark (HAGEL), Ciaran Clayton (CANTWELL), or Derrick Crowe (Rep. SMITH)
Legislation would aim to cut extreme global poverty in half by 2015
WASHINGTON, D.C. – U.S. Senators Barack Obama (D-IL), Chuck Hagel (R-NE) and Maria Cantwell (D-WA) have introduced the Global Poverty Act (S.2433), which requires the President to develop and implement a comprehensive policy to cut extreme global poverty in half by 2015 through aid, trade, debt relief, and coordination with the international community, businesses and NGOs. Representatives Adam Smith (D-WA) and Spencer Bachus (R-AL) sponsored the House version of the bill (H.R. 1302), which passed the House in September.
"Eliminating global poverty remains one of the greatest challenges we face, with billions of people around the world forced to live on just dollars a day," said Senator Obama. "We can – and must – make it a priority of our foreign policy to commit to eliminating extreme poverty and ensuring every child has food, shelter, and clean drinking water. As we strive to rebuild America's standing in the world, this legislation will not only commit to reducing global poverty, but will also demonstrate our promise and support to those in the developing world. Our commitment to the global economy has to extend beyond trade agreements that are more about increasing corporate profits than about helping workers and small farmers everywhere."
"Poverty, hunger, and disease will be among the most serious challenges confronting the world in the 21st century," Senator Hagel said. "This legislation provides the President of the United States the framework and resources to help implement a comprehensive policy to reduce global poverty. It is the human condition that has always driven the great events of history. This is a responsibility of all citizens of the world."
"America needs to do more to help the 1.1 billion men, women and children throughout the world living on less than $1 a day by helping promote sustainable economic growth and development," said Senator Cantwell. "We need to do more to save lives in the poorest countries. The U.S. needs to implement a real plan to combat poverty on a global scale while also addressing the national security risks extreme poverty creates."
"Arguably no greater problem faces the world than global poverty. Nearly 2.7 billion people live on less than $2 a day and close to a billion people live on less than $1 a day. We have a moral obligation to craft an overall U.S. strategy to decrease global poverty and eliminate extreme global poverty. After introducing this measure in the House for the past several years, I was pleased to see it pass this year with overwhelming bipartisan support. This bill's Senate introduction is a significant step toward it becoming law," Representative Adam Smith said.
For years, America has committed to improving the lives of the world's poorest people. In 2000, the U.S. joined more than 180 countries at the United Nations Millennium Summit and vowed to reduce global poverty by 2015. We are halfway towards this deadline, and it is time the United States makes it a priority of our foreign policy to meet this goal and help those who are struggling day to day.
The Global Poverty Act:
Declares it official U.S. policy to promote the reduction of global poverty, the elimination of extreme global poverty, and the achievement of the Millennium Development Goal of cutting extreme global poverty in half by 2015.
Requires the President to develop and implement a comprehensive strategy to carry out that policy.

Includes guidelines for what the strategy should include - from aid, trade, and debt relief, to working with the international community, businesses and NGOs, to ensuring environmental sustainability.

Requires that the President's strategy include specific and measurable goals, efforts to be undertaken, benchmarks, and timetables.

Requires the President to report back to Congress on progress made in the implementation of the global poverty strategy.
This legislation is supported by a broad range of groups, including Bread for the World, CARE, Oxfam America, Habitat for Humanity International, National Wildlife Federation, Sierra Club, United Church of Christ, Christian Church (Disciples of Christ), Borgen Project, United Methodist General Board of Church and Society, RESULTS, and Micah Challenge USA.
Please watch this brief video of Barack Obama. Please turn on your computer's speakers and then press the below link:
.
CNN: Barack Obama is lying. Please watch the below brief video.
Which Barack Hussein Obama II do you believe?


So when Barack Obama tells you other things, do you think he is telling you the truth?
Which Barack Hussein Obama II are you seeing in the debates: The liar or the one, who at times tells the truth.
Barack Obama is connected to a number of questionable figures, mentors and advisors. Do you want them sleeping in the Lincoln bedroom of the White House?
NEW YORK POST EDITORIAL 9-15-2008
Barack Hussein Obama II still has not answered these questions.
Code Pink calls all United States Marines and all military men and women war criminals.

DO YOU AGREE WITH CODE PINK?
Here's the Ad Barack Hussein Obama, his Far-Left Political Handlers and the Democrat Party Leadership do not want America to see.
Why is Barack Hussein Obama so afraid of the truth.
After watching the brief video, please do your own research of the Bill Ayers Barack Obama Connection.
SHOCKING VIDEO of Barack Hussein Obama's own words and voice:

WHAT HE REALLY THINKS OF WHITE FOLKS.
Barack Hussein Obama could not confront his pastor and great friend of twenty (20) years, but he wants us to believe he can confront North Korea and Iran.
A Democrat Presidential Candidate, who hangouts with known anti-American (bomber) terrorists, racists, crooked political fundraisers, etc...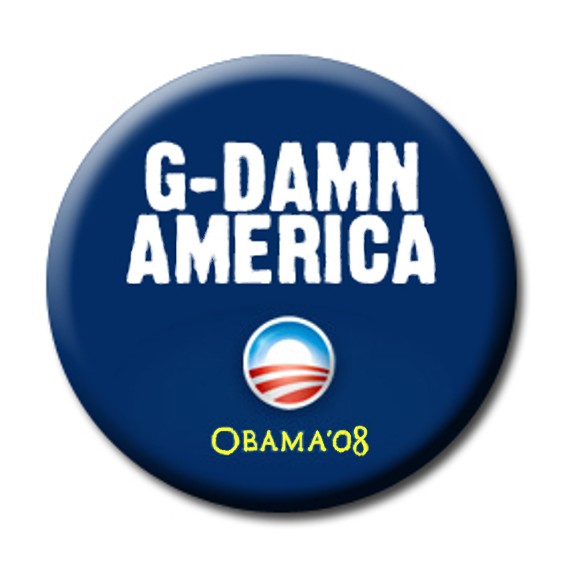 If you think Barack Obama and his mentor Rev. Wright connection is interesting,
please take the time to learn Barack's connection to
DOMESTIC-TERRORIST BILL AYERS.
Ayers, 63, spent 10 years as a fugitive in the 1970s when he was part of the "Weather Underground." They bombed the Pentagon, U.S. Capitol and a string of other government buildings.
In the mid-1990s, Ayers and Dohrn hosted a meet-and-greet at their house to introduce Obama to their neighbors during his first run for the Illinois Senate.
If America pulls out of Iraq too early, the below headline will be on FOX News almost daily. However, you will not hear about these massacres from the Liberal News Media. (Just like it wasn't broadcast, when it happened the first time.)
Learn the story about the Duc Duc Refugee Village Massacre.
There are eyewitnesses to the massacre. I lived and served (24/7) in the village prior to its massacre.