Press HERE: Lawyers' Perjury, Fraud, Ethics Violations, Legal Malpractice, State Supreme Court Coverup


Is Governor Chris Christie, good political friend of Mitt Romney, delaying a call for a transparent investigation for fraud and perjury charges surrounding New Jersey Supreme Court Official Robert Correale and his powerful and influential former law firm, Maynard & Truland?

Please call Governor Chris Christie's office at 609-292-6000 and state that John "Jack" Cunningham's allegations deserve a 'honest' New Jersey State investigation.


Please pass this request for calling Governor Chris Christie to ALL your families and friends 'on and off' the internet. It's about time, New Jersey's state government faced this Cover-up.
USS ARIZONA Marine Remembrance At Pearl Harbor
UPDATE: We saved the Marine Corps Rememberance Memorial in Pearl Harbor From The National Park Service.
UPDATE: A couple of years ago, I was the Operations Officer for the Pearl Harbor Visitor Center, on the waterfront between the USS ARIZONA and the USS BOWFIN. The Commandant of the Marine Corps was the featured speaker at the dedication of the USS ARIZONA Marine Remembrance, 10 November 2006. The National Park Service, which administers the USS ARIZONA Memorial is renovating all of Halawa Landing, the site of the Marine Remembrance. The Regional Director of the Natl Park Service Western Region, Jon Jarvis, stated on the local TV news that the Marine Remembrance would be removed. I challenged him on that statement and convinced him that would not happen without a fight. I passed the word to (disabled vet and webmaster) Jack Cunningham (Americans Working Together), who in turn asked his readership to email Jarvis that the entire USMC would make every effort to have him relieved of his duties if he moved that monument. I was copied on many of the emails to him from Marines, their friends and their families that it nearly fried my computer. And...it worked. In order to save his job, Jarvis backed down. The Remembrance now belongs to the USMC and has its' rightful place in direct view of the USS ARIZONA.
FINALLY RESTING PLACE FOR AN HONORABLE VETERAN
-------------------------------------------------
A CRIMINAL CASE, ETHICS CASE, CIVIL CASE OR ALL THREE...
Then learn below, this Marine's new battle with the State of New Jersey.
The corrupt law firm Maynard & Truland was the defendant in the case,

and I was the Plaintiff in the attorney ethics complaint.

Instead of the State giving me "reasonable disability accommodations" for my war-service-related PTSD, the State allowed Maynard & Truland's arrogant lawyers to mock my disability in sworn,

State Supreme Court documents.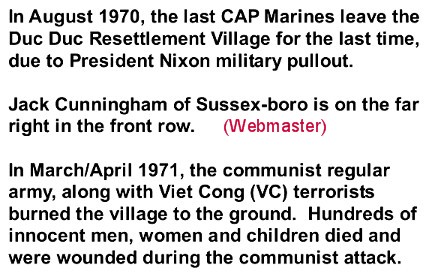 Webmaster & Disabled PTSD Vet Jack Cunningham Battles A Corrupt Law Firm And The Powerful State Officials,

Who Are Protecting Them:

The Veteran's Evidence - The Law Firm's Own Contact, Invoices, Supreme Court & Superior Court Filed Documents, Statements, Letters, Certifications, etc.
Webmaster & Disabled Vet Jack Cunningham Battles A Corrupt Law Firm And The Powerful State Officials, Who Are Protecting Them: The Veteran's Evidence - The Law Firm's Own Contact, Invoices, Supreme Court & Superior Court Filed Documents, Statements, Letters, Certifications, etc.

Please PRESS HERE For Details And Evidence.
The following letter was written by Lt. Jason Nichols, a Naval officer who is currently serving in Baghdad. He is also the head of

Appeal for Courage

, a group of American active duty and reserve service personnel who are appealing to Congress to stay and finish the war.
Senator Reid:

When you say we've lost in Iraq, I don't think you understand the effect of your words. The Iraqis I speak with are the good guys here, fighting to build a stable government. They hear what you say, but they don't understand it. They don't know about the political game, they don't know about a Presidential veto, and they don't know about party politics.

But they do know that if they help us, they are noticed by terrorists and extremists. They decide to help us if they think we can protect them from those terrorists. They tell us where caches of weapons are hidden. They call and report small groups of men who are strangers to the neighborhood, men that look the same to us, but are obvious to them as a foreign suicide cell.

To be brief, your words are killing us. Your statements make the Iraqis afraid to help us for fear we'll leave them unprotected in the future. They don't report a cache, and its weapons blow up my friends in a convoy. They don't report a foreign fighter, and that fighter sends a mortar onto my base. Your statements are noticed, and they have an effect.

Finally, you are mistaken when you say we are losing. We are winning, I see it every day. However, we will win with fewer casualties if you help us. Will you?

Respectfully,

LT Jason Nichols, USN
MNF-I, Baghdad
Please Press The Above Picture To Link To The Story About The Picture.
"How do you ask a man to be the last man to die for a mistake?"
John Kerry April 22, 1971
- At the time of his statements before the United States Congress, television news reporters and cameras, and Vietnamese Communist Negotiators in Paris, France, John Kerry was still in the United States Navy.
Learn the details at: