Iranian boats repeatedly "charged" U.S. warships in the Gulf
AMERICANS WORKING TOGETHER
I just pray, whoever the Democrats nominate... doesn't feel they have to kiss these folks butts
Barack Obama_s Communist Mentor
Is Barack Hussein Obama a closet racist?
Try imagining Martin Luther King's reaction to a Jeremiah Wright (Obama's Mentor) sermon
McCain Mocks Barack Obama's Iraq Comments
Two Years Ago Barack Obama Gave His Racist Church And His Racist Pastor $22,500 In Donations
Rev. Al Sharpton: Criticism of Rev. Wright 'grossly unfair'
THIS IS FUNNY: Ted Kennedy calling Barak Obama, Osama Bin Laden.Funny!!!
McCain Suspends Staffer for Circulating Obama-Pastor Video
Iraqi Documents Show al-Qaida Ties
"What this racist bigot (Obama's Mentor) has said from the pulpit is unbelievable."
"I've seen so many good things happen in Iraq."
FINALLY RESTING PLACE FOR AN HONORABLE UNITED STATES MARINE VETERAN
America voted for change in 2006
We have plenty of home-bred terrorists to be concerned with.
Does this make Barack Obama a hypocrite?
** AMERICANS WORKING TOGETHER **
Barack Obamas longtime minister, mentor, sounding board has been a key supporter of Louis Farrakhan
Americans Should Blame Themselves For The 9-11 Terrorist Attacks
Boycott of the Olympics: Due to China, Darfur region will endure more death, disease and dislocation
Obama's Pastor Says Bill Clinton Did The Same Thing To Black Voters That He Did To Monica Lewinsky
Catholic Archbishop Kidnapped And Killed
Jack Cunningham exposed himself to enemy fire to try and keep the Terrorists away from us
* INACTION HAS CONSEQUENCES *
Noble Peace Prize Winner Proclaims Iraq Was Supporting Terrorists Prior To President Bush's Invasion
It's time for Congress To Protect America's Military Recruiters.
Al Gore Does Not Agree With Barack Obama About Terrorists And Iraq
OPEN LETTER TO VIETNAM VETERANS: Dear Hero / Dear Vietnam Veteran
** LAWYERS GONE WILD **
Presidential Candidate Barack Obama is the "hope of the entire world" that the U.S. will change...
Reviews: See National Geographics Inside The Vietnam War
Barack Obama's wife is proud of America for the first time in her adult life...
Obstruction of Justice Starting In Governor Jon Corzine's Office And His Attorney General's Office
Test Your Knowledge: WHO IS GUILTY OF OBSTRUCTION OF JUSTICE.
FINDING THEIR BURIED ROOTS
ONCE A MARINE ALWAYS A MARINE
MARCH 29, 2008 VIETNAM VETERANS DAY IN CROSSVILLE, TENNESSEE
Berkeley City Council says Marine Corps recruiting station not welcome
TWO BIG BOOBS
"Senator, now it's time to visit heaven."
U.S. Senators Introduce Semper Fi Act of 2008 ~Berkeley City Act~
WHO PROTECTS DISABLED VETERANS FROM IDENTIFICATION THREATS, SCAMS, AND CORRUPTION
Open letter to America's deployed troops
Obama office adores psychotic Marxist thug
Marine Corps - Berkeley City - Code Pink Picture & Details: blocking government doorways
Berkeley, CA Police Department Supports CHAOS AND ANARCHY Against United States Marine Corps
Barack Obama Is No JFK...
If Obama wins the presidency, John Kerry and Ted Kennedy might become cabinet members.
Ex-Boeing engineer charged in China spying case
You better start lining up now...
Protest Against Berkeley City Council!! DATE: TUESDAY, FEBRUARY 12, 2008
Politicians are quick to praise veterans... Is It Real?
What the hell is going on here?
ANTI-AMERICAN: Berkeley City Council
This draws sharp contrasts with honorable, professional attorneys.
Joe Kennedy, Hugo Chavez and That Free Heating Oil
After 63 years, death photo of famed American news reporter surfaces
Petition making President Bush & Dick Cheney subject to arrest for crimes against the Constitution
WHICH PRESIDENTIAL CANDIDATE REFUSES TO SALUTE THE AMERICAN FLAG OR SAY THE PLEDGE
Explosive New Hillary Movie Exposes the Clintons
** Law Students To Help Veterans **
Chinese Navy Confronted USS Kitty Hawk
Watch Pentagon Tape of Iranian Boats Threatening U.S. Ships
Senate VA Committee To Examine Disability Benefits Commission Recommendations - Boost Vets Benefits
Sen. John Kerry blasted the presidential campaign of fellow Democrat Hillary Clinton
Obama Distances Himself From His Church
Bill Clinton Told To Cool Down...
~~ ** We are positive... ** ~~
John Kerry was one of those dishonorably dismissed from the Navy for collaborating with Viet Cong
How Swift Boat Veterans, POWs and the New Media Defeated John Kerry - To Set The Record Straight
We shouldn't really be too surprised that this could happen.
I do not want that woman (Hillary) in charge of the IRS, the FBI, or the Justice Department.
This picture is worth 10,000 words...! GOD BLESS OUR MILITARY.
** HOLLYWOOD RELEASING PATRIOTIC MOVIES **
U.S. officials: Iran incident most serious in years
Vietnam Veterans Memorial Turns 40 Years Old
Iranians threatened U.S. ships in Hormuz: Pentagon
What is your position on illegal immigration?
Ten Most Wanted Corrupt Politicians for 2007
Under Construction
The below picture is worth 10,000 words...! GOD BLESS OUR MILITARY. Please press the link below the picture to see a larger copy and the story behind it.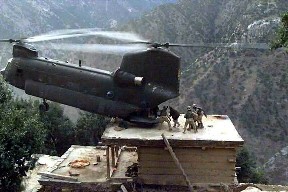 Below is a must read for all voting and non-voting Americans.
While walking down the street one day a US senator is tragically hit by a truck and dies.

His soul arrives in heaven and is met by St. Peter at the entrance.

"Welcome to heaven," says St. Peter. "Before you settle in, it seems there is a problem. We seldom see a high official around these parts, you see, so we're not sure what to do with you."

"No problem, just let me in," says the man.

"Well, I'd like to, but I have orders from higher up. What we'll do is have you spend one day in hell and one in heaven. Then you can choose where to spend eternity."

"Really, I've made up my mind. I want to be in heaven," says the senator.

"I'm sorry, but we have our rules."

And with that, St. Peter escorts him to the elevator and he goes down, dow n, down to hell. The doors open and he finds himself in the middle of a green golf course. In the distance is a clubhouse and
standing in front of it are all his friends and other politicians who had worked with him.

Everyone is very happy and in evening dress. They run to greet him, shake his hand, and reminisce about the good times they had while getting rich at the expense of the people.

They play a friendly game of golf and then dine on lobster, caviar and champagne.

Also present is the devil, who really is a very friendly guy who has a good time dancing and telling jokes. They are having such a good time that before he realizes it, it is time to go.

Everyone gives him a hearty farewell and waves while the elevator rises...

The elevator goes up, up, up and the door reopens on heaven where St. Peter is waiting for him.

"Now it's time to visit heaven."

So, 24 hours pass with the senator joining a group of contented souls moving from cloud to cloud, playing the harp and singing. They have a good time and, before he realizes it, the 24 hours have gone by and St. Peter returns.

"Well, then, you've spent a day in hell and another in heaven. Now choose your eternity."

The senator reflects for a minute, then he answers: "Well, I would never have said it before, I mean heaven has been delightful, but I think I would be better off in hell."

So St. Peter escorts him to the elevator and he goes down, down, down to hell.

Now the doors of the elevator open and he's in the middle of a barren land covered with waste and garbage.

He sees all his friends, dressed in rags, picking up the trash and putting it in black bags as more trash falls from above.

The devil comes over to him and puts his arm around his shoulder.
"I don't understand," stammers the senator. "Yesterday I was here and there was a golf course and clubhouse, and we ate lobster and caviar, drank champagne, and danced and had a great time. Now here's just a wasteland full of garbage and my friends look miserable. What happened?"

The devil looks at him, smiles and says, "Yesterday we were campaigning...... Today you voted."
-------------------------------------------
Rev. Al Sharpton, Rev. Jeremiah Wright and Rev. Jesse Jackson are not the racists.
And if you say anything to deny this, you are a racist.
"Blacks should not sing "God Bless America" but "God damn America." Rev. Jeremiah A. Wright Jr
Does this make Barack Obama a hypocrite?
"I understand MSNBC has suspended Mr. Imus,"
Obama told ABC News
, "but I would also say that there's nobody on my staff who would still be working for me if they made a comment like that about anybody of any ethnic group. And I would hope that NBC ends up having that same attitude."
April 11 2007 http://www.abcnews.go.com/Politics/story?id=3031317&page=1
On March 18, 2008, Senator Barack Obama said that his pastor, spiritual leader, mentor and great friend Rev. Wright is not anti-White and anti-United States. Please watch the brief video and you decide if Rev. Wright hates White Americans and the United States as a whole... http://www.youtube.com/watch?v=617eK2XIaLk&NR=1
POLL: Is Rev. Jeremiah Wright - Obama's mentor a Racist? http://capmarine.freepolls.com/cgi-bin/polls/037/poll_center.htm
Just think what people would say if Hillary Clinton went to an all white church that preached hate for African-Americans.
Then learn below, this Marine's new battle with the State of New Jersey.
A CRIMINAL CASE, ETHICS CASE, CIVIL CASE OR ALL THREE...
The corrupt law firm Maynard & Truland was the defendant in the case,
and I was the Plaintiff in the attorney ethics complaint.
Instead of the State
giving me "reasonable disability accommodations" for my war-service-related PTSD, the State allowed Maynard & Truland's arrogant lawyers to mock my disability in sworn,
State Supreme Court documents.
This week (Feb 4th), I'll finally be presenting my state corruption charges to the FBI in Newark, New Jersey.
I'll keep everyone informed of the status at the below web link.
Thank you for passing the word about this Arrogant, New Jersey State Executive and Judicial Cover-Up.
Last year, the New Jersey Corruption webpages had over 100,000 visitors. This year will be much more...
I have 22 years of working experience in Data Processing. I have some of my New Jersey corruption evidence on the internet, because I hoped to grow support from across the United States. Since I was not getting my civil rights from New Jersey's Supreme Court and Superior Court, the Governor's Office, NJ Attorney General's Office, Senate Robert Menendez and any law enforcement agency within the State of New Jersey, I had to get support from somewhere.
The State of New Jersey has denied me my Due Process for seven (7) years now.
http://www.americans-working-together.com/id519.html
Now, I'm asking for Due Process from the Federal Government...
Thanks Again!!
Jack Cunningham
Who is going to believe a PTSD vet over the word and reputation of a
New Jersey Supreme Court Vice-Chairman of Attorney Ethics?
However, the evidence stands for itself!!!!
------------
He might not go down as one of the top five presidents, but President George Bush, Jr will be remembered as one of the best presidents.
His actions saved the United States after 9-11, regardless how twisted the Left ties to make it. Jack Cunningham
The below picture is worth 10,000 words...! GOD BLESS OUR MILITARY. Please press the link below the picture to see a larger copy and the story behind it.
Instead of the State of
New Jersey
giving me "reasonable disability accommodations" for my war-service-related PTSD, the State allowed Maynard & Truland's arrogant lawyers to mock my disability in New Jersey Supreme Court documents.
The corrupt law firm Maynard & Truland was the defendant in the case, and I was the Plaintiff in the attorney ethics complaint.
F.B.I. To Investigate Disabled PTSD Vet's (Seven Years) Of Corruption And Civil Rights Violation Charges
Against State Of New Jersey