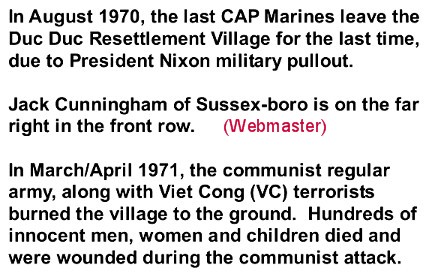 Our non-profit webpages had over 6,200,000 hits for 2007.

Webmaster & Disabled PTSD Vet Jack Cunningham Battles A Corrupt Law Firm And The Powerful State Officials,

Who Are Protecting Them:

The Veteran's Evidence - The Law Firm's Own Contact, Invoices, Supreme Court & Superior Court Filed Documents, Statements, Letters, Certifications, etc.
Here's how Hollywood has portrayed Vietnam Veterans.
Check out these two links:
HOLLYWOOD VIETNAM WAR NEWS: Oliver Stone recruits Bruce Willis for My Lai massacre film
'BEFORE' MASSACRE: Pictures And Narratives of Duc Duc / Phu Da, Vietnam
THE TWO WEBSITES OF THE COMBINED ACTION PROGRAM (CAP).
The village was punished for helping the American Marines that served in the area.
You can read about the village's massacre at: http://www.americans-working-together.com/id222.html
There are more veterans wounded with PTSD than any other type of combat wound... According to Department of Veterans Affairs' (VA) estimates, there are over 98,000 new PTSD Vets. If it is true about this 98,000 new PTSD Veterans, then THE UNITED STATES CONGRESS SHOULD INVESTIGATE WHY THIS NUMBER IS SO HIGH.
PLEASE PRESS THE SCALE OF JUSTICE TO LEARN DETAILS: