The Best Texter Doesn't Always Win
Support America's PTSD Vets
Economics Professor Failed a Whole Class For Believing in Obama
** Americans Working Together **
U.S. News and World Report: How would you grade this administration so far?
** My Lai Massacre **
George Bush warned Congress starting in 2001, that this economic crisis was coming.
Was This High Level Supreme Court Official Forced to Resign
Experiences of a combat Marine
USS Arizona Marine Remembrance Memorial At Pearl Harbor Needed Your Help
** Mountain Lions in New Jersey **
That's what we do... We're Americans!!
~ * PICTURES OF A GRIZZLY BEAR ATTACK
The slaps were audible from across the cemetery. The story about Navy Petty Officer Mike Monsoor
Goals to Socialism/Communism in America
Obama looking to give new life to immigration reform
Did President Bush Lie About WMDs and Terrorists in Iraq
"There's A Communist Living in the White House!!"
NBC Reporter goes nuts on the air about Tea Party Membership
Honorably discharged vet mocked in Supreme Court documents for having PTSD
Results of Driving While Texting...
America's Most Decorated Soldier
Is Barack Hussein Obama a closet racist?
MAP OF THE FAR EAST: Korea, China, Philippines, Japan, Vietnam, Taiwan, Indonesia,
I am afraid (Of Today's America)
History/ Political Quiz: Of these 45 goals how many have already been accomplished
November 1, 2009 TEA PARTY
DEMOCRATS WHY ALL THE NAZI RHETORIC?
Goon Grabs Senior Citizen From Behind And Tries To Keep Him From Speaking During A Town Hall Meeting
American News Media Distorting Townhall Meetings To Favor Obama Health Care Push
Obama tells his thugs to get in neighbors' faces. Yet now Obama denies legal dissenters their Speech
Health-Care Bill: Brief Breakdown
CNN Video: 'I supported him. I voted for him. I will not again'...
New Jersey Governor Jon Corzine is NOT like any Marine that I know.............
Americans largely silent as their nation is systematically destroyed
Help get the word out: September 12th National Taxpayer Protest in Washington DC
** the little guy can win **
PROUD father of an American Soldier
Obama's Uncle: He's Using Buchenwald for Political Purpose
A legacy of corruption, economic ruin, repression and ethnic cleansing
Are "wise Latinas" better decision makers than white men
Respect the rights of Americans who want to ban all legal guns in America
8 Toxic personalities to avoid
THE DEATH OF ISRAEL
Susan Boyle singing 'Memories' from Cats
A Great Picture From The War in Afghanistan
If you had to decide who was lying...
Corruption in State Costs Each Family $109 as Reform Stalls
Protecting their own reputation...
First sign erected in 'truth and transparency' campaign
HILLARY & OBAMA Blame US Soldiers For Taliban Slaughter
Birth certificate billboard mania continues
Here's a guy I can agree with.
~~ ** MEMORIAL DAY WEEKEND IN WASHINGTON DC ** ~~
Is it time for House Speaker Nancy Pelosi to be removed as House Speaker
Should ACORN Receive Federal Money As More ACORN Voter Fraud Comes to Light?
A Young Marine's Dream Job - Training Afghans As Bullets Fly
Superior Court Transcript mysteriously goes missing before it could be typed...
Are NBC, CBS, ABC, and CNN real News Organizations or just Megaphones for the White House?
EUROPE - THY NAME IS COWARDICE...
You be the Judge: A decorated, disabled vet denied justice, due to a Clerical Error or Part of a
MSNBC: Give President Obama a grade
MY LAI MASSACRE
Do you feel that President Obama is doing enough for the people of Darfur?
The Tea Party Movement Goes to Capitol Hill on September 12, 2009
If you served on an U.S. Navy ship
Democrat Congressman Barney Frank's 2005 Speech Nails Him to Housing Collapse
Fire Homeland Security Secretary Janet Napolitano
July 4th Celebrations of Our Freedoms (TEABAG PARTIES) across America
If This Happen TODAY In America: Saboteurs Land on Long Island!
Together We Stand: On April 15, something amazing happened...
Illegal Immigration Is Not a Crime Says Obama's Department of Homeland Security Chief Napolitano
~ LADY WITH A ANGEL'S VOICE ~ AWESOME * Susan Boyle *
Those Goddamn Marines
A formal rendition of Taps called Il Silenzio
Till the Last Shot's Fired sung by Trace Adkins with the West Point Cadet Glee Club
Come be part of American history
Should President Obama have bowed to foreign leaders...
90 percent say it is a conflict of interest. What do you say...? *
U.S. Senate: Cybersecurity Act of 2009 would allow the president to shut down much of the Internet
State Legislators investigate cover-up allegations within the state Office of Attorney Ethics
Troubled Homecoming for World War II Veterans
Thousands of military vets are waiting to find out if they were exposed to infectious diseases by VA
EU presidency: President Obama's economic plans 'a road to hell'
'The Axis of Idiots'
Marine guard snaps to attention, Salutes, and says to President Obama
Huge Patriotic Rock in rural Iowa
POLL: Should AIG executives get their bonuses
A Must See If You Love Animals With Talent
Senators slam Obama's plan for wounded vets
** TWO BIG BOOBS **
White House caves on veterans plan, but what was it thinking?
Obama to Bill Combat Wounded for Medical Care
Should government agencies be the final word on corruption investigations within the same agency?
MSNBC: Give President Obama a grade
Senate grants Social Security to Illegals, yet planned to cut disabled veterans' SSD
Guaranteed to kill 330,000 Americans within a single hour...
Phew! Asteroid's passing was a cosmic near-miss
Biggest Threat To The Security Of The United States
I dreamt that I went to Heaven and an angel was showing me around
Actor Val Kilmer Says Most Vietnam Vets were borderline criminals or poor.
AMERICANS WHO SAY, "FUCK OUR TROOPS."
** INVITATION TO ALL VIETNAM VETS ** VIETNAM VETERANS DAY 2009 ** WELCOME HOME **
UNDER CONSTRUCTION
For years, many Democrat Leaders called for the impeachment of President Bush for Lying to The World Why America Invaded Iraq.
Back on September 29, 1992, Al Gore, who was campaigning with Bill Clinton, criticized President George Bush Senior for ignoring Iraq's ties to terrorism.Gore even mentions Iraq's WMDs.
http://www.youtube.com/watch?v=9JE48XHKG64
"In the four years since the inspectors left, intelligence reports show that Saddam Hussein has worked to rebuild his chemical and biological weapons stock, his missile delivery capability, and his nuclear program. He has also given aid, comfort, and sanctuary to terrorists, including al Qaeda members. It is clear, however, that if left unchecked, Saddam Hussein will continue to increase his capacity to wage biological and chemical warfare, and will keep trying to develop nuclear weapons."
Sen. Hillary Clinton (D, NY), Oct 10, 2002
"Saddam Hussein has been engaged in the development of weapons of mass destruction technology which is a threat to countries in the region and he has made a mockery of the weapons inspection process."
Rep. Nancy Pelosi (D, CA), Dec. 16, 1998.
"We know that he has stored secret supplies of biological and chemical weapons throughout his country."
Al Gore, Sept. 23, 2002.

"Iraq's search for weapons of mass destruction has proven impossible to deter and we should assume that it will continue for as long as Saddam is in power."
Al Gore, Sept. 23, 2002.

"We have known for many years that Saddam Hussein is seing and developing weapons of mass destruction."
Sen. Ted Kennedy (D, MA), Sept. 27, 2002.
"I will be voting to give the President of the United States the authority to use force — if necessary — to disarm Saddam Hussein because I believe that a deadly arsenal of weapons of mass destruction in his hands is a real and grave threat to our security."
Sen. John F. Kerry (D, MA), Oct. 9, 2002.
"We are in possession of what I think to be compelling evidence that Saddam Hussein has, and has had for a number of years, a developing capacity for the production and storage of weapons of mass destruction. "[W]ithout question, we need to disarm Saddam Hussein. He is a brutal, murderous dictator, leading an oppressive regime ... He presents a particularly grievous threat because he is so consistently prone to miscalculation. And now he has continued deceit and his consistent grasp for weapons of mass destruction ... So the threat of Saddam Hussein with weapons of mass destruction is real ...
Sen. John F. Kerry (D, MA), Jan. 23. 2003.
"There is no doubt that . Saddam Hussein has reinvigorated his weapons programs. Reports indicate that biological, chemical and nuclear programs continue apace and may be back to pre-Gulf War status. In addition, Saddam continues to redefine delivery systems and is doubtless using the cover of a licit missile program to develop longer-range missiles that will threaten the United States and our allies."
Letter to President Bush, Signed by Sen. Bob Graham (D, FL,) and others, Dec, 5, 2001.

"We begin with the common belief that Saddam Hussein is a tyrant and a threat to the peace and stability of the region. He has ignored the mandate of the United Nations and is building weapons of mass destruction and the means of delivering them."
Sen. Carl Levin (d, MI), Sept. 19, 2002.

"The last UN weapons inspectors left Iraq in October1998. We are confident that Saddam Hussein retains some stockpiles of chemical and biological weapons, and that he has since embarked on a crash course to build up his chemical and biological warfare capabilities. Intelligence reports indicate that he is seeking nuclear weapons..."
Sen. Robert Byrd (D, WV), Oct. 3, 2002.

"There is unmistakable evidence that Saddam Hussein is working aggressively to develop nuclear weapons and will likely have nuclear weapons within the next five years . We also should remember we have alway s underestimated the progress Saddam has made in development of weapons of mass destruction."
Sen. Jay Rockerfeller (D, WV), Oct 10, 2002,

"He has systematically violated, over the course of the past 11 years, every significant UN resolution that has demanded that he disarm and destroy his chemical and biological weapons, and any nuclear capacity. This he has refused to do."
Rep. Henry Waxman (D, CA), Oct. 10, 2002.

"One way or the other, we are determined to deny Iraq the capacity to develop weapons of mass destruction and the missiles to deliver them. That is our bottom line."
President Clinton, Feb. 4, 1998.

"If Saddam rejects peace and we have to use force, our purpose is clear. We want to seriously diminish the threat posed by Iraq's weapons of mass destruction program."
President Clinton, Feb. 17, 1998.

"Iraq is a long way from [here], but what happens there matters a great deal here. For the risks that the leaders of a rogue state will use nuclear, chemical or biological weapons against us or our allies is the greatest security threat we face." Madeline Albright, Feb 18, 1998.

"He will use those weapons of mass destruction again, as he has ten times since 1983."
Sandy Berger, Clinton National Security Adviser, Feb, 18, 1998

"[W]e urge you, after consulting with Congress, and consistent with the U.S. Constitution and laws, to take necessary actions (including, if appropriate, air and missile strikes on suspect Iraqi sites) to respond effectively to the threat posed by Iraq's refusal to end its weapons of mass destruction programs."
Letter to President Clinton, signed by Sens. Carl Levin, Tom Daschle, John Kerry, and others Oct. 9, 1998.

"Saddam Hussein has been engaged in the development of weapons of mass destruction technology which is a threat to countries in the region and he has made a mockery of the weapons inspection process."
Rep. Nancy Pelosi (D, CA), Dec. 16, 1998.

"Hussein has ... chosen to spend his money on building weapons of mass destruction and palaces for his cronies."
Madeline Albright, Clinton Secretary of State, Nov. 10, 1999
Proud Vietnam Vet, Proud Tea Party Patriot, Webmaster Jack Cunningham
Help end Government Corruption in 2012
A state Supreme Court attorney ethics Vice-Chairman Robert Correale misuses his high level government and court office to Cover-Up and block ethics violations and legal malpractice charges against his own law firm, Maynard & Truland. After eight years, the Cover-Up leads all the way up to the Governor's Office, the Attorney General's Office, the state's Supreme Court and Superior Court.
Disabled Vietnam vet, Jack Cunningham's ethic complaints start with Robert Correale's and his law firm's gross negligence, over-charging per hour, false billing, lack of communications, coming to court unprepared and open perjury to the New Jersey Supreme Court and Superior Court systems. (Evidence are Maynard & Truland's own contact, invoices, court-filed letters, court-filed documents and court-filed sworn statements, NJ Supreme Court attorney certifications, etc.)
Please direct your calls to Gov Chris Christie at: 609-292-6000. It's time, Governor Chris Christie asks for a formal investigation of the Cover-up.
John "Jack" Cunningham vs. New Jersey Office of Attorney Ethics
THE AMERICAN TEA PARTY MOVEMENT WAS FORMED TO STOP THEIR ADVANCE ON AMERICA
WASHINGTON DC 9-12-2009 TEA PARTY
GET INVOLVED TODAY
Webmaster Jack Cunningham Sussex, NJ
Below is Jack Cunningham standing with Congressman Joe Wilson at the Morristown, New Jersey Tea Party on November 1, 2009.
" A free people ought not only to be armed and disciplined, but they should have sufficient arms and ammunition to maintain a status of independence from any who might attempt to abuse them, which would include their own government."
- George Washington
Billboard recently established on I-75 just south of Lake City, Florida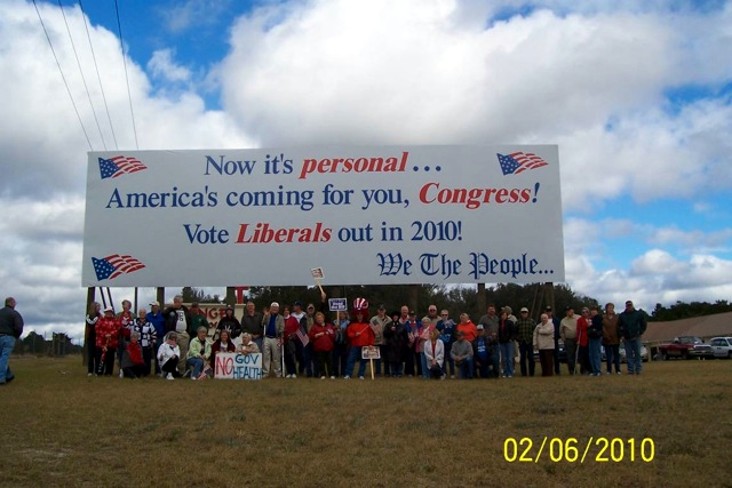 What we do know about Obama is that, since his teen years, he has been mentored by, gravitated toward, and surrounded by the most dangerous sort of America-hating socialists, communists, and Marxists… from Frank Marshall Davis and Saul Alinsky to Weather Underground terrorists Bill Ayers and Bernadine Dohrn, to Rev. Jeremiah Wright, George Soros, and countless radical left college professors.
by Paul R. Hollrah February 1, 2010
Navy Petty Officer Mike Monsoor
WHY WASN'T THIS ON THE FRONT PAGE NEWS?
(AP Photo/David Guttenfelder, FILE)
A real David and Goliath story
Eight year corruption battle against his State Government may finally come to light...
Above the Law
When does a Superior Court transcript go missing, before it could be typed?
When a state Supreme Court official is being tied for legal Malpractice.
This same Supreme Court Official Commits Perjury to Supreme Court (Evidence)
(See if you can recognize the perjury)
Eight years of battle is about to be successful.
USS ARIZONA Marine Remembrance At Pearl Harbor
UPDATE: We saved the Marine Corps Rememberance Memorial in Pearl Harbor From The National Park Service.
UPDATE: A couple of years ago, I was the Operations Officer for the Pearl Harbor Visitor Center, on the waterfront between the USS ARIZONA and the USS BOWFIN. The Commandant of the Marine Corps was the featured speaker at the dedication of the USS ARIZONA Marine Remembrance, 10 November 2006. The National Park Service, which administers the USS ARIZONA Memorial is renovating all of Halawa Landing, the site of the Marine Remembrance. The Regional Director of the Natl Park Service Western Region, Jon Jarvis, stated on the local TV news that the Marine Remembrance would be removed. I challenged him on that statement and convinced him that would not happen without a fight. I passed the word to (disabled vet and webmaster) Jack Cunningham (Americans Working Together), who in turn asked his readership to email Jarvis that the entire USMC would make every effort to have him relieved of his duties if he moved that monument. I was copied on many of the emails to him from Marines, their friends and their families that it nearly fried my computer. And...it worked. In order to save his job, Jarvis backed down. The Remembrance now belongs to the USMC and has its' rightful place in direct view of the USS ARIZONA.
Now, Jack Cunningham can use our help himself, as he fights for his due process against a corrupt law firm and state officials who are protecting them.
From: John R. Bates [mailto:
jrbatesusmc@aol.com
]
Sent:
Wednesday, January 07, 2009 6:55 PM
To:
SENOROHO@NJLEG.ORG
Subject:
John "Jack" Cunningham
SECOND REQUEST:


Dear Senator Oroho,

I'm writing this request (again) on behalf of Jack Cunningham, a former active duty Marine and Vietnam veteran. Although I've never actually met him in person, simply the fact that he is a fellow Marine in need of justice, I offer to help him in any way I can. As you may know, Marines are like that. Marines take care of Marines.

Although I probably don't know all of the facts pertaining to his case against the State of New Jersey, I know enough to firmly believe that he should be heard in a public forum. His charges are serious. There are claims of abuse of power and cover-up at the highest level of the State government. When such accusations are made, I believe the leadership has no other option than to investigate. Until that is done, all that know of him and his charges will assume that there is indeed a cover-up. Perception is a powerful thing. Hopefully it won't be counter to the truth, whatever that may be.

If this is allowed to continue to fester, the results will be devastating on all involved.

If this issue is not addressed soon, my only other option is to forward this to every Marine website and public forum I can find. That option is not a good one for any of us.

Please do the right thing and give Jack his "day in court."

Very Respectfully, John R. Bates



EVIDENCE AND DETAILS AT: http://www.americans-working-together.com/attorney_ethics/id73.html
Washington, Hamilton and LaFayette on the Green at Morristown, New Jersey
Here's a picture of a 260 mountain lion.
Full picture and story at the next link.
He was the Plaintiff against a corrupt law firm in a Legal Malpractice case.