"A man good enough to shed his blood for his country, is good enough to receive a square deal afterwards . . ."
-- Theodore Roosevelt
Although there are a number of reasonable disability accommodations for the physically disabled, there is not one reasonable accommodation for the PTSD disabled. WHY?
REASONABLE ACCOMMODATIONS FOR THE PTSD DISABLED
These accommodations should be determined by medical specialists; and our federal and state Supreme Courts.
Americans with Disabilities Act (ADA) Information
Title II requires that State and local governments give people with disabilities an equal opportunity to benefit from all of their programs, services, and activities (e.g. public education, employment, transportation, recreation, health care, social services, courts, voting, and town meetings).
They (The State's) are required to make reasonable modifications to policies, practices, and procedures where necessary to avoid discrimination, unless they can demonstrate that doing so would fundamentally alter the nature of the service, program, or activity being provided. (The Federal Department of Justice - Civil Rights Division)
File Complaints At:
http://www.usdoj.gov/crt/ada/t2cmpfrm.htm
A PTSD DISABLED VETERAN REPRESENTS HIMSELF AGAINST AN EXTREMELY POWERFUL AND CORRUPT LAW FIRM AND WINS...
Due to financial reasons, I had to represent myself in Superior Court against a law firm that I was charging Legal Malpractice against. No lawyers wanted the case without big money up front. Lawyers are quick to handle Medical Malpractice cases, but Legal Malpractices cases are another story.
I won the first round before a Superior Court judge in Sussex, New Jersey. However, when I went to use the court transcript from the first round, the court transcript went strangely missing, before it could be typed and released to a higher level within Superior Court. My case was then thrown out, because of a lack of merit. I appealed my case to the Superior Court of New Jersey Appellate Division in the state capital. Below is a letter of support from a former Veterans Affairs doctor of mine.
I was asking for reasonable PTSD disability accommodations. But there are no reasonable disability accommodations for the PTSD disabled.
PRESS THE LETTER FOR A LARGER COPY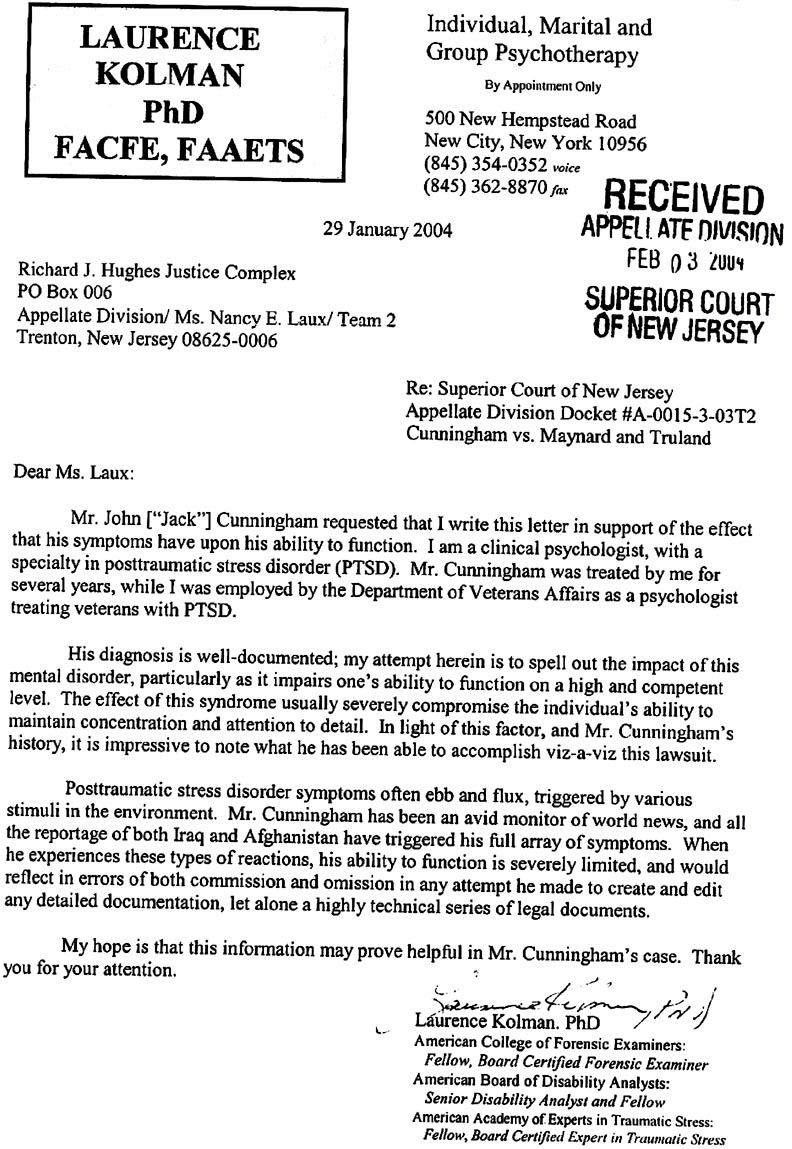 In the end, my New Jersey Superior Court case was again thrown out and a Gag Order was placed on me.
SEE HOW I WAS MOCKED IN OFFICIAL ATTORNEY CERTIFICATIONS TO NEW JERSEY SUPREME COURT: PRESS HERE TO READ HONORABLE VETERAN MOCKED FOR HIS PTSD
When I went to use the court transcript from the first round, the court transcript went strangely missing, before it could be typed and released to a higher level within Superior Court. Read some evidence at: http://www.americans-working-together.com/id111.html