Home
Surrender is still not an option.
Support America's PTSD Vets
MAP OF THE FAR EAST (Japan, Korea, China, Vietnam, ...)
** My Lai Massacre **
Surrender is still not an option. This vet's story needs to be heard
Decorated Vet Mocked For His PTSD
March 29, 30 and 31 - Forty Years Ago In History
Marines in deadly Afghan valley face combat stress
AMERICANS WORKING TOGETHER
After Americans leave village, terrorists turn 2,000 homes into ashtray
Disabled Vet Battles Corrupt Law Firm: Evidence Firms Contact, Invoices, Supreme Count Documents
Help Make It a Federal Crime to Attack Veterans Memorials
Obama's Troop Withdrawl Will Trigger Massacres Like This
When a Village is Assigned to Death Row
webmaster Jack Cunningham
The president gave this village a death sentence...
The Other My Lai Massacre
Vietnam Combat Vet Shunned By US Courts (and Federal Politicians)
Let's Stand Shoulder To Shoulder And Get Our Country Back From Narcissistic Politicians
~ Why do these two U.S. Marines look drunk... ~
Unknown Massacre of a Refugee Village Once Protected By The American Military
War experiences of a combat veteran
FBI files discuss Cronkite aiding Vietnam protesters
CAP was just one of the many humanitarian examples set in motion during the war
A TRAGIC STORY OF A FAILED COMMITMENT "TO KEEP A VILLAGE FREE"
"SO ALONE"
Who and What is a Domestic Terrorist...
The disgraceful treatment of our veterans
Veterans Affairs (VA) Statistics: Average of 18 vets commit suicide each and every day
the March 29, 30, 31, 1971, massacre was well-planned
* HONORABLE VETERAN MOCKED IN COURT FOR HAVING PTSD *
Goals to Socialism/Communism in America
American Patriots are watching what happens...
Is it time for a realistic, pro-American Military television series
What's going to happen in 2010
OPEN LETTERS TO VIETNAM ERA VETERANS: Dear Hero / Dear Vietnam ERA Veteran
What Early Troop Pullout Means
New Jersey Governor Jon Corzine is NOT like any Marine that I know.............
Will This New Rule Of Combat Lead To More American Deaths In Afghanistan
** the little guy can win **
PROUD father of an American Soldier
The slaps were audible from across the cemetery. The story about Navy Petty Officer Mike Monsoor
If you had to decide who was lying...
A Great Picture From The War in Afghanistan
Protecting their own reputation...
~~ ** MEMORIAL DAY WEEKEND IN WASHINGTON DC ** ~~
What combat feels like...
Troops in Vietnam: Reached a peak of 543,000 in the last year (1968) of the Johnson Administration
Republican Political Disgrace
A Young Marine's Dream Job - Training Afghans As Bullets Fly
USS Arizona Marine Remembrance Memorial At Pearl Harbor Needed Your Help
American soldiers in Vietnam were falsely accused of being a barbarian horde, rapists, murderer
Those Goddamn American Marines
America's Most Decorated Soldier
Should ACORN Receive Federal Money As More ACORN Voter Fraud Comes to Light?
Honorably discharged vet mocked in Supreme Court documents for having PTSD
Should ACORN Receive Federal Money As More ACORN Voter Fraud Comes to Light?
Troubled Homecoming for America's Military Veterans
Senate grants Social Security to Illegals, yet planned to cut disabled veterans' SSD
A TRAGIC STORY OF A FAILED COMMITMENT
If you served on an U.S. Navy ship...
THE UNKNOW PART OF THE VIETNAM WAR
Do you feel that President Obama is doing enough for the people of Darfur?
WAS THERE AN ATTEMPT TO COVERUP THE MASSACRE OF THE DUC DUC REFUGEE VILLAGE
Most Vietnam Vets were borderline criminals or poor
Marines take care of Marines. As you may know, Marines are like that.
Come be part of American history
The Last Two Months, We Had 404,663 Visitors And 3,446,781 Hits.
Iraq War Disabled Veteran Beaten By Police, While The Veteran IS Hand-cuffed.
90 percent say it is a conflict of interest. What do you say...? *
~ * Great American Military Non-combat Pictures * ~
** HEAR The Dear Vietnam Veteran Letter, Love America **
VIETNAM VETERANS DAY 2009: Crossville, Tennessee will be the host city for this National Event
Read the Experiences of a US Marine Living and Serving (24/7) in a Vietnamese Peasant Village
Rate George Bush's presidency on a 1 to 5 scale.
Communist Goals for American Takeover, 1/10/1963 Congressional Record--Appendix, pp. A34-A35
** I am an American. **
Vietnam Veterans Day and calling on the American people to recognize such a day. * MARCH 29 *
If the Haditha Marines were found guilty, it would be headlines for years to come...
** What We Owe Iraq War (and Warriors) **
PRESS HERE FOR 'BEFORE' MASSACRE: Pictures And Narratives of Duc Duc / Phu Da, Vietnam
It was built out of respect for all those serving in Vietnam.
MISTAKES OF THE VIETNAM WAR'S ANTI-WAR MOVEMENT
MARCH 29, 2008 VIETNAM VETERANS DAY IN CROSSVILLE, TENNESSEE
John Kerry was one of those dishonorably dismissed from the Navy for collaborating with Viet Cong
GREAT COLLEGE OR HIGH SCHOOL HISTORY TERM PAPER TOPIC ON THE VIETNAM WAR
** MEMORIAL DAY 2008 **
Rosedale, NY Vietnam Veterans Memorial History
Jane Fonda, the actress and ardent anti-Vietnam War advocate, endorses Barack Obama
ONCE A MARINE ALWAYS A MARINE
What the hell is going on here?
Disabled Vet's Identity Stolen From Lost VA Records. Garnished Disability Pay... You, a family me
But we were elated to notice your media were definitely helping us. -General Giap, North Vietnam
Being ordered to NOT wear your uniform for "fear" of being targeted by War Protesters.
RECENT SATELLITE PICTURES OF HUE CITY, PLEIKU, DA NANG, CAM RANH BAY, AN HOA, SAIGON, H
"It is a deep insult to the United States..."
~ ** Ghosts of Vietnam ** ~
American soldiers in Vietnam were falsely accused of being a barbarian horde, rapists, murderer
MEMORANDUM TO ALL VIETNAM VETERANS
TELEVISION NEWS COVERAGE OF THE DUC DUC, VIETNAM MASSACRE
Vietnam Vet Talks About Massacre At Univ. Of Del.
SENATOR JAMES WEBB SERVED IN THE MARINES IN THE DUC DUC AREA BEFORE THE MASSACRE
President George Bush's Iraq-Vietnam War analogy strikes nerve in Vietnam...
"This nation will remain the land of the free only so long as it is the home of the brave."
PROUD HONORABLE VIETNAM VETERANS
2008 will mark start of annual Vietnam Veterans Day
Iraq Is Next, Followed By The Other Nations Of The Region
MORE EYEWITNESS REPORTS OF THE MASSACRE
EUROPE - THY NAME IS COWARDICE (Commentary by Mathias Dapfner CEO, Axel Springer, AG)
~ ** unjustly imprisoned journalist near death ** ~
EYE WITNESSES REPORTS OF THE MASSACRE
~ ** "GATHERING OF EAGLES" ** ~
"Not so fast, Fonda"
VETERAN MEMORIALS IN SONG
DOMAINS WHO VISIT OUR WEBSITE
RECENT AERIAL PICTURE OF THE SITE OF THE DUC DUC RESETLEMENT VILLAGE
PICTURES AND NARRATIVES OF DUC DUC BEFORE THE VILLAGE WAS MASSACRED
HISTORY OF THE AN HOA VALLEY
JANE FONDA AND JOHN KERRY WORKING FOR AMERICA'S ENEMY TOGETHER
AMERICANS WORKING TOGETHER
WEBMASTER JACK CUNNINGHAM'S EXPERIENCES OF LIVING IN THE DUC DUC REFUGEE VILLAGE
I have talked with both delegations at the peace talks...
CAP 2 - 2 - 2 "THE TYPHOON FLOOD OF NOVEMBER 1, 1970"
COMBINED ACTION PROGRAM (CAP: What was it...
OFFICIAL WEBSITE OF CAP VETERANS
RICHARD THOMAS' CONNECTION TO THE DUC DUC RESETTLEMENT VILLAGE MASSACRE
BACK IN APRIL 1971...
THE YEAR 2007 NEWS TOPICS
Go Noi Island - Quang Nam Province - South Vietnam
http://www.Americans-Working-Together.com
So far, our non-profit webpages have already had over 5,325,000 hits for 2007.
59,000 Americans died in order to give Vietnam Freedom. Thanks to the American Left, Senator John Kerry, some individuals in Hollywood and the American News Media, the Vietnamese People still do not have these freedoms.
Personally, I strongly feel that today's Vietnamese government should give their people the freedoms that all people need. Once this takes place, the Vietnamese nation can then become a full American ally, and one of the United States chief trading partners; instead of China. If this does not happen, the country of Vietnam may become a future political-satellite of China. (It would not be the first time, China invaded Vietnam.)
Jack Cunningham, Sussex, NJ
Mr. Le Quoc Quan
Mr. Le Quoc Quan
NED Reagan-Fascell Fellow Le Quoc Quan Arrested after Return to Vietnam
Washington, DC -- The National Endowment for Democracy (NED) is greatly troubled by the arrest in Vietnam of Le Quoc Quan. Le Quoc Quan, a lawyer, has recently been in residence at NED on a congressionally-funded Reagan-Fascell Democracy Fellowship, pursuing independent research on the role of civil society in emerging democracies. He was arrested on March 8 in his hometown in Nghe An province, only 4 days after his return from Washington to Vietnam. At this time, Le Quoc Quan's whereabouts are unknown, and there are no public charges against him.
"It is a deep insult to the United States that the Vietnamese regime would harass someone in this way who has just participated in a citizen exchange program supported by the US Congress and Department of State," said NED President Carl Gershman. "Le Quoc Quan is someone who is optimistic about the future of his country, who is most concerned about improving the lives of his fellow citizens, and who is nothing if not a Vietnamese patriot."
The National Endowment for Democracy urges the government of Vietnam to immediately make known the whereabouts of Le Quoc Quan; to make public any charges against him; to allow his family access to visit him; to treat him according to international human rights standards; and to release him.
Concerned individuals and organizations who wish to take action are urged to register a protest directly with the Embassy of Vietnam in Washington, DC.
CONTACT INFORMATION FOR VIETNAMESE EMBASSY IN WASHINGTON
Ambassador H.E. Nguyen Tam Chien. (202) 861 0737
Minister Counselor (Political): Mr. DANG Dinh Quy (202) 861 0737 x230.
Minister Counselor - Deputy Chief of Mission: Mr. VU Dang Dzung (202) 861 0737 x 223.
Minister Counselor (Congressional Liaison): Ms. NGUYEN Nguyet Nga (202) 861 0737 x 225
Counselor (Political): Mr. NGUYEN Van Trung (202) 861 0737 x335
Embassy of Vietnam in the United States
1233 20th St NW, Suite 400
Washington, DC 20036
Tel. 202.861.0737
Fax 202.861.0917
-
www.vietnamembassy-usa.org/
Mr. Le Quoc Quan (Vietnam)
"Promoting Democracy in Vietnam: The Role of Civil Society"
October 2006–February 2007

A lawyer by training, Mr. Le Quoc Quan has worked for the past seven years as a local governance consultant to the World Bank, the Asian Development Bank, UNDP, and the Swedish International Development Agency. An active participant in Vietnam's struggle for democracy, he has been vocal in his defense of religious freedom and political pluralism, both as a law student and legal advocate, and in his writings for the BBC and several Vietnamese newspapers. He is founder of Vietnam Solutions, a firm that provides consulting services on local governance, poverty reduction, and grassroots democracy for development projects in Vietnam. During his fellowship, Mr. Quan examined successful democratic transitions and considered how civil society might contribute to the democratization of Vietnam. http://www.ned.org/forum/current.html#Quan
----- Original Message -----
From: "Bill Laurie" <>
Albright, McCain and Weber Call For Release of Le Quoc Quan
http://www.prnewswire.com/cgi-bin/stories.pl?ACCT=104&STORY=/www/story/04-17-2007/0004567086&EDATE
WASHINGTON, April 17 /PRNewswire-USNewswire/ --
Former Secretary of State Madeleine Albright, Senator John McCain and National Endowment for Democracy (NED) Chairman Vin Weber are the authors of a letter sent April 12 to the President of Vietnam protesting the March 8 arrest of Le Quoc Quan, a Vietnamese lawyer who was most recently a Reagan-Fascell Democracy Fellow at NED.
"Quan impressed all who met him with his integrity, passion for assisting the poor, and commitment to assisting Vietnam's growth and development," the letter states. "Throughout his fellowship, Quan was an
outstanding representative of Vietnam and its people, winning many friends and bringing great credit to his country. The National Endowment for Democracy is honored to have hosted him.
"We cannot emphasize strongly enough our deep concern over Quan's arrest and the dark cloud that his continued detention casts over the image of Vietnam and the prospects for improved ties between our countries. We call upon you to make all necessary arrangements for his swift release."
Albright and McCain serve as Chairmen of the National Democratic Institute and the International Republican Institute respectively, which are key partners of the National Endowment for Democracy. Today's letter is an important element of an international campaign to protest the recent human rights crackdown in Vietnam, and the arrest of Le Quoc Quan in particular.
Full text of the letter can be found on the NED website at http://www.ned.org
HONORABLE VETERAN MOCKED FOR HIS PTSD IN STATE ETHICS DOCUMENTS. PLEASE PRESS HERE FOR DETAILS

Press HERE: Lawyers' Perjury, Fraud, Ethics Violations, Legal Malpractice, State Supreme Court Coverup




"A man good enough to shed his blood for his country, is good enough to receive a square deal afterwards . . ."
-- Theodore Roosevelt
"The willingness with which our young people are likely to serve in any war, no matter how justified, shall be directly proportional to how they perceive veterans of early wars were treated and appreciated by our nation."
- George Washington
Help give America's PTSD vets a stronger voice.
Please join our Facebook Cause. We are over 19,750 members.
PTSD disabled vets should be protected under the Federal Americans with Disability Act?

http://www.causes.com/causes/488457/members?m=d033d689

Is America turning her back on her veterans?
Disabled Vet battles corrupt state's political machine. Press here for details.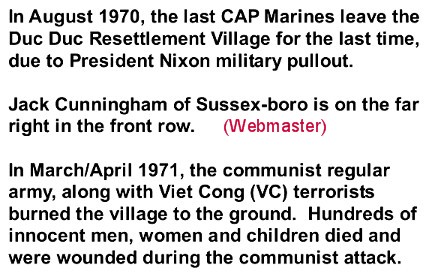 ..
PRESS PICTURE FOR A LARGER COPY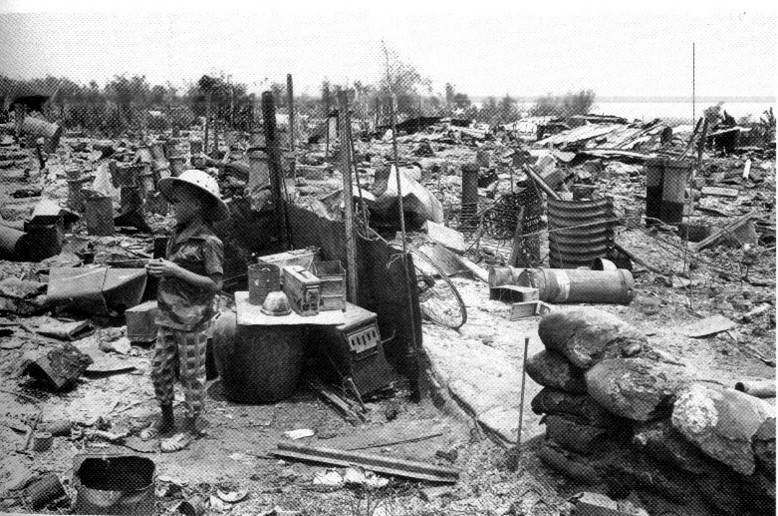 PRESS PICTURE FOR A LARGER COPY
PLEASE READ SOME OF FORMER U.S. CAP MARINE AND WEBMASTER'S JACK CUNNINGHAM'S DAY-TO-DAY EXPERIENCES OF LIVING AND SERVING (24/7) IN A VIETNAMESE PEASANT VILLAGE AT: http://www.capveterans.com
Because guerrilla warfare basically derives from the masses and is supported by them, it can neither exist nor flourish if it separates itself from their sympathies and co-operation….The moment that this war of resistance dissociates itself from the masses of the people is the precise moment that it dissociates itself from hope of ultimate victory…
-Mao Tse-Tung
'BEFORE' MASSACRE: Pictures And Narratives of Duc Duc / Phu Da, Vietnam
Why are the two teenage boys' in the below picture eyes closed?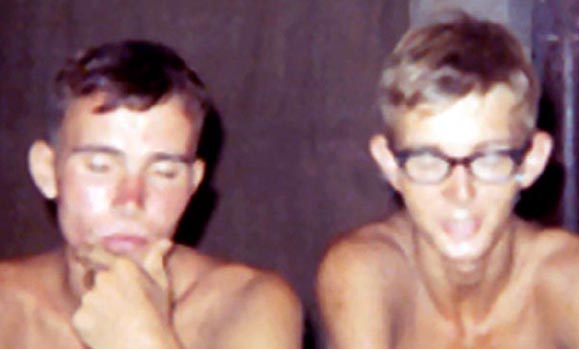 FRIENDS OF DUC DUC, VIETNAM
Please Press The Below Logo To Visit The Official Website For "Gathering of Eagles."
Press the Logo: http://gatheringofeagles.org/
Press the Logo: http://gatheringofeagles.org/
~ THE VIETNAM WAR'S ANTI-WAR MOVEMENT
"How do you ask a man to be the last man to die for a mistake?"
John Kerry April 22, 1971
- At the time of his statements before the United States Congress, television news reporters and cameras, and Vietnamese Communist Negotiators in Paris, France, John Kerry was still in the United States Navy.
Learn the details at:
Less than a month after the massacre of the Duc Duc Refugee Village, Senator John Kerry became a spokesperson and negotiator for the communist government in Vietnam. At the time, John Kerry was an officer in the United States Navy.
Sen. Kerry met with the Viet Cong government to negotiate a peace settlement without the authorization of our government:
"I have been to Paris. I have talked with both delegations at the peace talks, that is to say the Democratic Republic of Vietnam and the Provisional Revolutionary Government and of all eight of Madam Binh's points it has been stated time and time again, and was stated by Senator Vance Hartke when he returned from Paris, and it has been stated by many other officials of this Government, if the United States were to set a date for withdrawal the prisoners of war would be returned." (Vietnam Veterans Against the War Statement by John Kerry to the Senate Committee of Foreign Relations, April 23, 1971.)
HISTORY OF THE AN HOA VALLEY
A Marine's An Hoa Valley Story
EYE WITNESSES REPORTS OF THE MASSACRE
RECENT AERIAL PICTURE OF THE SITE OF THE DUC DUC RESETTLEMENT VILLAGE
----- Original Message -----
From:
To:
Sent: Wednesday, December 21, 2005 12:24 AM
Subject: Duc Duc settlement
Jack,
I found the following report from the 7th Marines Command Chronology dated March 4, 1968. Although the grid coordinates are incorrect the village names are the same as those where you served with CAP 2-9-2 (aka NOV 3). It seems like the massacre in 1971 was not the first time the villagers had been brutalized.
Sandy
(d) 040500H: Company I searched the area of (AT869571) and found 40 civilians KIA, 77 WIA, and 14 WIA (at this point there are several letters I can't read ...Sandy)

The villages of DUC DUC, PHU DA, and AN HOA had been mortared, and the enemy had moved through the area burning huts and throwing grenades at the civilians in their bomb shelters. The enemy told civilians that the reason for the raid was to force the people to return across the river to the Arizona area and grow rice.