UNKNOWN WAR
Support America's PTSD Vets
~ Why do these two U.S. Marines look drunk... ~
Unknown Massacre in Vietnam
FBI files discuss Cronkite aiding Vietnam protesters
webmaster Jack Cunningham
Oliver Stone recruits Bruce Willis for My Lai massacre film
American Patriots are watching what happens...
What's going to happen in 2010
New Jersey Governor Jon Corzine is NOT like any Marine that I know.............
** the little guy can win **
~~ ** MEMORIAL DAY WEEKEND IN WASHINGTON DC ** ~~
War experiences of a Vietnam veteran
If you served on an U.S. Navy ship...
Huge Patriotic Rock in rural America
Honorably discharged vet mocked in Supreme Court documents for having PTSD
MAP OF THE FAR EAST (Japan, Korea, China, Vietnam, ...)
America's Most Decorated Soldier
~ TERRORISTS TURN 2,000 HOME CAP VILLAGE INTO AN ASHTRAY
MARCH 29, 2008 VIETNAM VETERANS DAY IN CROSSVILLE, TENNESSEE
OPEN LETTER TO VIETNAM VETERANS: Dear Hero / Dear Vietnam Veteran
90 percent say it is a conflict of interest. What do you say...? *
Col. John Ripley, Marine, Who Halted An Enemy Two Hundred Tank, 20,000 Troop Attack, Dies
It was built out of respect for all those serving in Vietnam.
Troops in Vietnam: Reached a peak of 543,000 in the last year (1968) of the Johnson Administration
SUSSEX, NEW JERSEY MEN SPENT WAR IN VIETNANESE VILLAGE.
Rate George Bush's presidency on a 1 to 5 scale.
John Kerry Was Dishonorably Discharged: Witnesses
THE VIETNAM WAR'S ANTI-WAR MOVEMENT
American soldiers in Vietnam were falsely accused of being a barbarian horde, rapists, murderer
AMERICAN VETERANS
Read the Experiences of a US Marine Living and Serving (24/7) in a Vietnamese Peasant Village
AMERICANS WORKING TOGETHER
ONCE A MARINE ALWAYS A MARINE
Disabled Vet's Identity Stolen From Lost VA Records. Garnished Disability Pay... You, a family me
After 63 years, death photo of famed reporter surfaces
Berkeley City Council says Marine Corps recruiting station not welcome
FINALLY RESTING PLACE FOR A HONORABLE CAP VIETNAM VETERAN
If you spent time in Southeast Asia and are having gastrointestinal issues for no apparent reason...
**MEMORANDUM TO ALL VIETNAM VETERANS FROM FORMER MARINE COMMANDANT GENERAL P. X. KELLEY **
http://www.CapMarine.com
A QUICK PULLOUT FROM IRAQ IS NOT THE ANSWER
Delta 5 was overrun.
Forty Years Ago Today In American History
AN ARTICLE ON WEBMASTER JACK CUNNINGHAM
Being ordered to NOT wear your uniform for "fear" of being targeted by War Protesters.
** I am an American. **
THE PARIS PEACE ACCORDS
American Vet Took On 100 Taliban To Save Unit
HOLLYWOOD TRIES TO RESCUE THE TERRORISTS FROM THE SURGE
TO KEEP A VILLAGE FREE
Vietnam War Movies
Vietnam War at the Movies
But we were elated to notice your media were definitely helping us. -General Giap, North Vietnam
MEMORANDUM TO ALL VIETNAM VETERANS
2008 will mark start of annual Vietnam Veterans Day
PROUD HONORABLE VIETNAM VETERANS
HELP THE VIETNAM VETERANS LEGACY FOUNDATION
~ ** OPERATION LAYETTE ** ~
VETERAN MEMORIALS IN SONG
MAJOR NEWS TOPICS FOR 2007
~ * All-too-often forgotten group of veterans. * ~
http://www.cap-assoc.org/
LIFE MAGAZINE ARTICLE ON THE MARINE CORPS COMBINED ACTION PROGRAM (CAP)
ANOTHER ARTICLE ON CAP: AMERICAN CIVIL ACTIONS IN VIETNAM
CAP MARINE - MEDAL OF HONOR
CHARLIE CUPP 2
CAP MARINE AND WEBMASTER JACK CUNNINGHAM'S EXPERIENCES OF LIVING IN THE DUC DUC REFUGEE VILLAGE
FACTS ABOUT THE VIETNAM WAR - GREAT FOR HISTORY TERM PAPERS
~ TODAY'S * VIETNAM ~
COMBINED ACTION PROGRAM (CAP) LINKS
CAP IN VIETNAM 1965 - 1971
DIRTY LITTLE SECRETS OF THE VIETNAM WAR
THE TURNING POINT OF THE VIETNAM WAR: TET 1968 OFFENSIVE
MONTAGNARDS THEIR HISTORY AND CULTURE
CAP IN IRAQ
AMERICANS WHO LIVED AS PEASANTS
VIETNAMESE PEASANT-FARMING VILLAGE PICTURES & NARRATIVES
RECENT SATELLITE PICTURES OF VIETNAM MILITARY BASES
GREAT PICTURE OF A WASHINGTON DC MEMORIAL
Marine Corps combined-action program, an initiative that was successful in Vietnam and has shown ear
~ WHY DO THESE TWO MARINES LOOK DRUNK... ~
SATELLITE PICTURES OF HUE CITY, PLEIKU, DA NANG, CAM RANH BAY, AN HOA, SAIGON, HOI AN
A Vietnam Veteran Memorial Dedicated 1968 on Memorial Day
HISTORY OF THE AN HOA VALLEY
The Combined Action Platoon Seeds Of Success In Iraq
~ A LONG OVERDUE HONOR ~
National Medical War Memorial and Youth Education Center Project
ORIGINAL WEBSITE FOR THE DUC DUC REFUGEE MASSACRE
MY CAP VILLAGE IN VIETNAM
WAS THERE AN ATTEMPT TO COVERUP THE MASSACRE OF THE DUC DUC REFUGEE VILLAGE
DEAR VIETNAM VETERAN, LOVE AMERICA
JANE FONDA AND JOHN KERRY WORKING FOR AMERICA'S ENEMY TOGETHER
UNITED STATES MARINES IN VIETNAM
THE VIETNAM FILES
AMERICANS WORKING TOGETHER
http://www.Americans-Working-Together.com
Our non-profit webpages had over 6,200,000 hits for 2007.
CAProductions is all non-profit.
Here's how Hollywood has portrayed Vietnam Veterans.
Check out these two links:
PRESS THE PICTURE FOR A LARGER COPY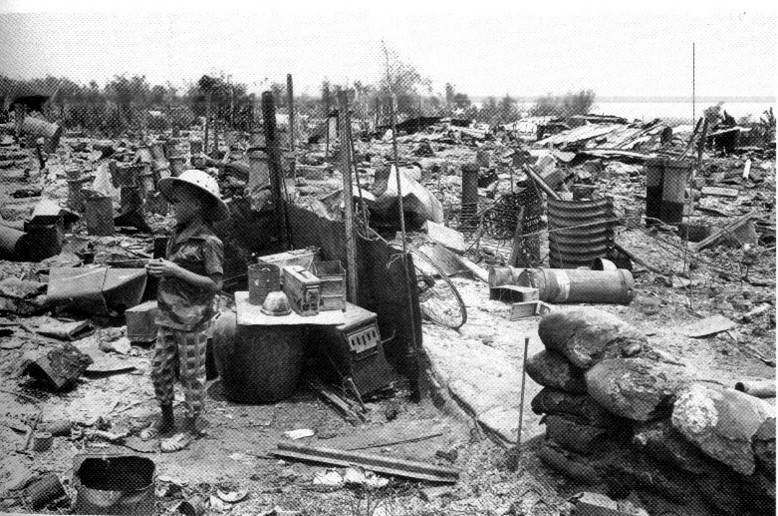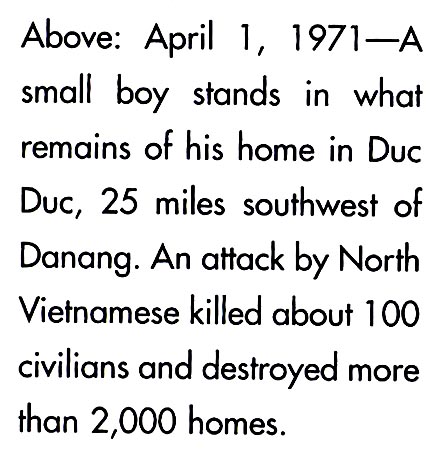 --------------
Details about Oliver Stone's 'My Lai Massacre' movie are below.
When is Hollywood going to do a film on the other side of the Vietnam War. The side that does not highlight the Vietnamese communists as Freedom Fighters and America's military as the enemies of the Vietnamese People.
Someone in Hollywood should do a movie on the Duc Duc Refugee Village massacre. Let America and the World learn about the "Banging Pots of Duc Duc." When communists terrorists entered the village of Duc Duc at night, many times the peasants would bang their cooking pots to warn the American Marines that the communist terrorists were in the village.
In March 1971, the banging of these cooking pots cost these friends of America their lives and village.
The Massacre of Duc Duc needs to be remembered and learned from, before it is repeated: Again and Again...
Jack
A big puzzle-piece of the Vietnam War is largely unknown. It is the Massacre of the Duc Duc Refugee Village in the end of March 1971.
I served and lived (24/7) in the village, under the Marine Corps' Combined Action Program (CAP) and was on the last CAP Team in the village. We left in August 1970, about eight months before the communists burned the 2,000 home village to ashes. Having lived and served (24/7) in the village for five months, I personally feel that the Duc Duc Refugee Village was massacred, because the communists wanted to punish the peasants living there. The reason for this punishment was because for years, the peasants supported the Americans serving in the area. You can read some articles about the massacre at: http://www.americans-working-together.com/id222.html
What makes this massacre a nice, Vietnam War puzzle-piece is its timing.
These are the two biggest news stories at the time of the Duc Duc Resettlement Village Massacre.
It was also the period, when John Kerry was appearing on television and radio news shows condemning American men and women, who were fighting for the freedom of the Vietnamese People. At the time, the American News Media was portraying America's military as village burners and much worse... (Under this cover, the village was massacred.)
The Massacre of the Duc Duc village was in the American evening news six (6) times. CBS, NBC and ABC each had it on twice. (It was never mentioned on evening news again.) In contrast, the My Lai massacre has been in the news hundreds of times over the years. (I have proof of this at: http://home.earthlink.net/~duc_duc_massacre )
I'm hoping that the story of the Duc Duc Massacre gets picked up by today's American News Media. The massacre fits more today than any other day since the massacre...
I had many Vietnamese friends in the village. I want them remembered. And I want the Americans, who died trying to protect all Vietnamese, remembered.
Sincerely,
Jack Cunningham
That is why CAProductions is all non-profit.
---------------------
http://home.earthlink.net/~duc_duc_massacre
CBC Evening News for Wednesday, Mar 31, 1971 - REPORTER: Walter Cronkite
Saigon announces North Vietnam attacked

Duc Duc

, South Vietnam, last Sunday; killed 200 civilians.
NBC Evening News for Wednesday, Mar 31, 1971 - REPORTER: Frank Mcgee
North Vietnam attacks

Duc Duc

, South Vietnam, killing or wounding over 200.
ABC Evening News for Wednesday, Mar 31, 1971 - REPORTER: Harry Reasoner
North Vietnam forces attack

Duc Duc

, South Vietnam, killing 100 civilians.
CBS Evening News for Friday, Apr 02, 1971 Headline: South Vietnam / Duc Duc
(Duc Duc, South Vietnam) Film shows destroyed village, civilians digging through rubble; 107 known dead, 135 evacuated for treatment; villagers feel South Vietnam didn't help enough to prevent North Vietnam attack.
[ Eyewritness to the attack: Major Franklin TRAPNELL - says heard news of Calley conviction at same time enemy killing civilians at Duc Duc; says this another My Lai perpetuated by enemy this time, with more killed for far less reason; hopes will have some impact on public.] US providing supplies to rebuild village.
REPORTER: Jeff Williams
WHY DID THE VIETNAMESE COMMUNISTS PUNISH THE DUC DUC RESETTLEMENT VILLAGE.
http://home.earthlink.net/~ducducvietnamfriends/duc_duc_021.htm
-------------------------
OLIVER STONE'S NEW MOVIE
"Pinkville"
http://www.imdb.com/title/tt1051718/
Plot Outline: Army general William R. Peers (Willis) investigates the My Lai Massacre, an event in which several hundred Vietnamese civilians were killed by U.S. soldiers.
The question is will his version be about bashing American troops in general or about the actions of a few irrational soldiers in a nasty war?
Will the movie be about indicting the American soldier in the current Iraq conflict or about the effects of war on a few misguided soldiers?
----- Original Message -----
From: "Bill Laurie" <>
Fasten your seat belts:

Information on Stone's planned film about My Lai:

http://article.wn.com/view/2007/08/28/Stone_recruits_Willis_for_My_Lai_massacre_film_g

There's some things to be learned from this, and it
is neither what most people expect nor is it pleasant.
First, the film will probably gross in the tens of
millions at lest, probably crack the $100.0 million
ticket barrier.

Next, a currently shown film, "Journey From the
Fall," ("Vuot Song" in Viet Namese) has met with
resounding and pathetic indifference. Ticket sales as
of Aug 2007: $634,439.00. By all accounts however it
is an incredible movie:

http://www.ocweekly.com/film/film/after-the-war/24978


http://seattletimes.nwsource.com/html/movies/2003673166_journey20.html


Of course, "Journey" does not wallow in Stone-ian
masochism and national self-flagellation, is about
Viet Namese people, based on real life accounts of
reeducation camp prisoners, written and directed by a
Viet Namese-American. It also shows Hanoi's
communists as barbarian thugs. Why the lack of
interest? One reason: a recent Harris poll discovered
57% (five-seven) of American people do NOT like
learning about political issues in other countries.
This is fine, except they should be banned from voting
or expressing opinions on current events, Iraq, etc.

Another factor, one even more repulsive: it appears
that most Americans LIKE being voyeurs, gazing at
portrayals of American decadance, if not supposed
imperialistic lunacy, in their film fare. THEY are
the ones who want 'body counts.' That's what the box
office shows.
Check out these two links:
Here are ticket revenues for four other movies,
supposedly about Viet Nam:
(All revenues adjusted to 2007 dollars, via ticket
price schedule found in website 'boxofficemojo.com')

Platoon $245.7 million
Apocalypse Now* $215.9 "
Hamburger Hill $23.3 "
Hanoi Hilton $1.3 "

*Referred to by some as 'Apoca-bullsh-t Now'

First two movies are easily refuted representative
of history, or in any way an accurate overall
portrayal of either side of the war. They are
essentially propaganda films, designed to emotionally
manipulate the viewer. Many Viet Nam veterans and
Viet Namese-Americans vociferously condemn both
movies. These films are not history, but are accepted
as such by the American public.

Latter two films are much more realistic(Hamburger
Hill written and directed by Viet Nam veteran) and
both are honest and accurate within the scope of the
topic filmed. "Hanoi Hilton" shows Hanoi's brutish
torture of U.S. POWs, and does not portray Americans
as blood-thirsty demons.

Clear pattern: U.S. public is infatuated with what
must be described as essentially a sado-masochistic
lust for national self-flagellation. It does not pay
to make Viet Nam films UNLESS Americans and South Viet
Namese, are betrayed as anything but vile, despicable
vermin and scum. The movie-going public LIKES this,
and, as demonstrated by comparative ticket sales,
WANTS to see how disgusting, putrid, immoral and
depraved Americans were in Viet Nam.

Most who served in Viet Nam can think of dozens of
stories that would make great films. Jack Cunningham,
a former USMC CAP, has a screenplay about CAPs. CAProductions is all non-profit. It
gathers dust because no producers want a movie that
portrays Americans as good guys involved in a
worthwhile cause. Apparently the U.S. public is of
the same mindset, and does not WANT to see USMC CAP
stories which are both incredible and inspiring:

http://home.earthlink.net/~life_magazine_67/life_mag_004.htm


Why then the strong appeal of "Platoon"? The
probable high ticket sales for Stone's My Lai movie?
It cannot be out of sincere concern for the people of
SE Asia, or else movies about the Hmong plight could
be made, using factual and unfortunately current
information from these people:

http://www.youtube.com/watch?v=Z1xngfvVN6k&mode=related&search
=

or these:

http://www.youtube.com/watch?v=mJHerGolvR0&mode=related&search


Movies depicting plight of these people
should...should...be popular as they do not lack in
drama, human suffering, incredible courage, etc.
After all, the film "Air America" was supposed to be
about Laos, and it sold a 2007-dollar equivalent of
$48.3 million in tickets. Then again it depicted Air
American pilots as complicit in heroin smuggling and
other inanities, so it did satisify the present
American fetish for self-abasement and self-loathing.
In addition, it didn't waste any time attempting to
tell the real story of real SE Asian people, for which
the American public shows no interest.

Perhaps a film showing Montagnard people, facing
cultural genocide, having their land taken, forbidden
to allow their children to learn their native
languages:

http://www.montagnard-foundation.org/homepage.html


Let's take the gloves off and state forthrightly
what many Viet Nam, Laos, Cambodia, Thai veterans, and
people born in these countries say: the American
public wants its heroes destroyed and belittled
because it knows it cannot live up to the character,
moral fiber, and almost insane examples of courage
demonstrated by these people. As one Viet Nam veteran
said many years ago: "Don't expect Americans to be
proud of you, because they are not proud of
themselves."

Oddly enough, the more one peers into the Viet
Nam-Laos-Cambodia subject, the more one probes through
the mist and fog of perceptual confusion, the more one
sees a repugnant view of America. It is the same
America that will stand in line to buy tickets for
Stone's next movie, yet will dismiss any and all
unpleasant information about the people of Southeast
Asia, the Montagnards, the Hmong, the Mennonites.
About the Khmer Krom, the Viet Namese Buddhists, and
anyone else who will not tolerate being told what to
do and how to think, have been and are still
suffering...and dying...because of Hanoi's
pathologically twisted ideology. News such as this is
often cited as "too depressing," presumably
exonerating the people from doing anything about the
horrid situation. Besides, if the Hanoi's perverted
transgressions are verified as truth, then those who
opposed Hanoi's ideological druids and de-facto Nazis
must be deemed 'good guys.' Lordy, Lordy, we can't
have that can we?

Final word: the atrocity, and that's what it was,
at My Lai cannot and should not be disregarded or
forgotten or excused. It was a vile and disgusting
act. The perpetrators should still be breaking rocks
in Leavenworth. Any and all allied transgressions
must be on the table for discussion.
Still, if atrocities are a desired cinema fare,
perhaps a film is warranted of the 36,000 Viet Namese
assassinated by the VC/NVA. There'd be some
insidiously grotesque 'special effects': people
impaled on bamboo stakes anus-to-mouth, people burned
alive, disemboweled, decapitated, or simply shot. Of
course if a minute were dedicated to filming each
assassination, it would produce 300 two-hour films.
Too long. Can't sit through it. A film should be
made about Dak Son, where 252 Montagnards were
incinerated by NVA wielding flame throwers:

http://www.11thcavnam.com/main/dak_son.htm


Perhaps the massacre at Duc Duc would appeal to movie
goers: CAProductions is all non-profit.

http://home.earthlink.net/~ducducvietnamfriends/duc_duc_021.htm


or...

http://home.earthlink.net/imagelib/sitebuilder/misc/show_image.html?linkedwidth=actual&linkpath=http://home.earthlink.net/~duc_duc_massacre/sitebuildercontent/sitebuilderpictures/massacre_picture.jpg&target=tlx_new&title=PLEASE%20%20PRESS%20%20THE%20%20PICTURE%20%20FOR%20%20A%20%20LARGER%20%20COPY


or...

http://home.earthlink.net/~duc_duc_massacre/id3.html


But, no, a movie covering these topics would die at
the box office, if it could even be produced. The
reason: the American public doesn't give a damn,
doesn't care, doesn't know enough to do either,
doesn't WANT to, and is content to watch those who did
care and who did put their ass on the line be defiled
and besmirched by amoral slugs ready, willing and
eager to pander to America's low taste, vast chasm of
ignorance, vacuous morality, and infantile
voyeurism...if not gutlessness.

Unless and until Stone or anyone else produces
movies including this material, their claim of mortal
sanctity and superiority is a fetid example of
self-indulgent hypocrity. It is deceit. It is a lie.
It is putrid. It is a tale of pure hallucinatory
fantasy, told by those with either no mind, or no
character, or either. From: "Bill Laurie" <>
Senator John Kerry was given a Dishonorably Discharge from the Navy for collaborating with Viet Cong. Press Here For Details.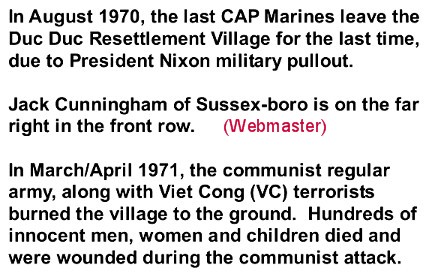 http://www.Americans-Working-Together.com
Our non-profit webpages had over 6,200,000 hits for 2007.
Webmaster & Disabled PTSD Vet Jack Cunningham Battles A Corrupt Law Firm And The Powerful State Officials,
Who Are Protecting Them:
The Veteran's Evidence - The Law Firm's Own Contact, Invoices, Supreme Court & Superior Court Filed Documents, Statements, Letters, Certifications, etc.
Please PRESS HERE For Details And Evidence.
Here's how Hollywood has portrayed Vietnam Veterans.
Check out these two links:
HOLLYWOOD VIETNAM WAR NEWS: Oliver Stone recruits Bruce Willis for My Lai massacre film
'BEFORE' MASSACRE: Pictures And Narratives of Duc Duc / Phu Da, Vietnam
~ PRESS HERE TO LEARN: TERRORISTS TURN 2,000 HOME CAP VILLAGE INTO AN ASHTRAY
~ THE VIETNAM WAR'S ANTI-WAR MOVEMENT
THE TWO WEBSITES OF THE COMBINED ACTION PROGRAM (CAP).
http://www.CapMarine.com
http://www.cap-assoc.org/
~ WHY DO THESE TWO MARINES LOOK DRUNK... ~
Press the picture to link to the story.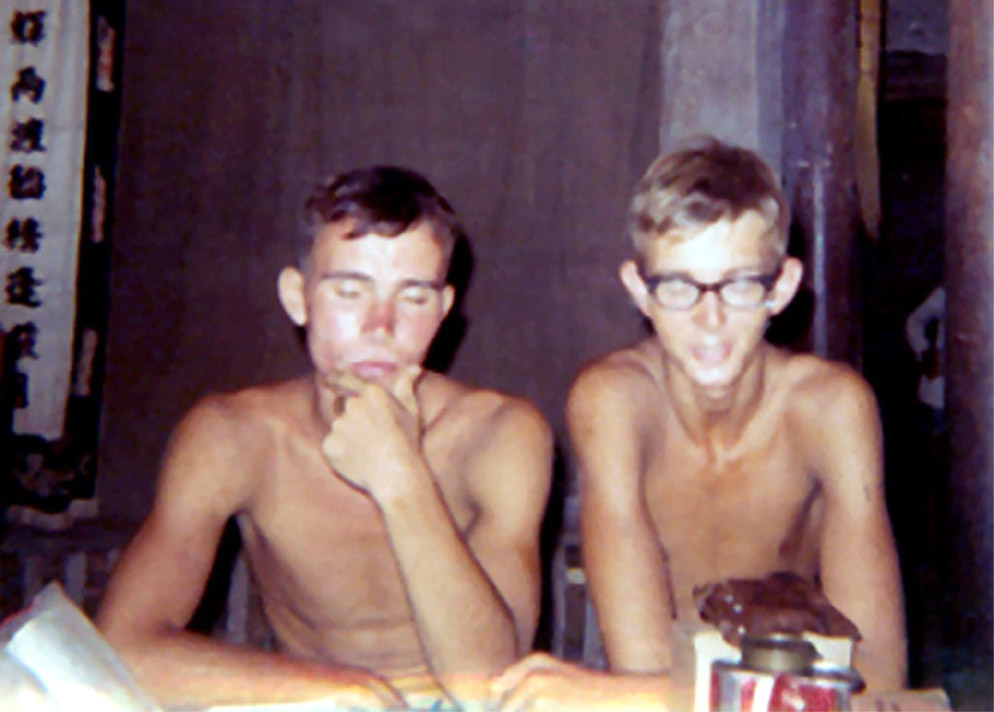 The village was punished for helping the American Marines that served in the area.
You can read about the village's massacre at: http://www.americans-working-together.com/id222.html
"A man good enough to shed his blood for his country, is good enough to receive a square deal afterwards . . ."
-- Theodore Roosevelt
There are more veterans wounded with PTSD than any other type of combat wound... According to Department of Veterans Affairs' (VA) estimates, there are over 98,000 new PTSD Vets. If it is true about this 98,000 new PTSD Veterans, then THE UNITED STATES CONGRESS SHOULD INVESTIGATE WHY THIS NUMBER IS SO HIGH.
PLEASE PRESS THE SCALE OF JUSTICE TO LEARN DETAILS: