Obama's Growing War On Christians. Please press HERE






Please pass this request for calling Governor Chris Christie to ALL your families and friends 'on and off' the internet. It's about time, New Jersey's state government faced this Cover-up.
Help end Government Corruption in 2012
A state Supreme Court attorney ethics Vice-Chairman Robert Correale misuses his high level government and court office to Cover-Up and block ethics violations and legal malpractice charges against his own law firm, Maynard & Truland. After eight years, the Cover-Up leads all the way up to the Governor's Office, the Attorney General's Office, the state's Supreme Court and Superior Court.
Disabled Vietnam vet, Jack Cunningham's ethic complaints start with Robert Correale's and his law firm's gross negligence, over-charging per hour, false billing, lack of communications, coming to court unprepared and open perjury to the New Jersey Supreme Court and Superior Court systems. (Evidence are Maynard & Truland's own contact, invoices, court-filed letters, court-filed documents and court-filed sworn statements, NJ Supreme Court attorney certifications, etc.)



Please direct your calls to Gov Chris Christie at: 609-292-6000. It's time, Governor Chris Christie asks for a formal investigation of the Cover-up.
John "Jack" Cunningham vs. New Jersey Office of Attorney Ethics
THE AMERICAN TEA PARTY MOVEMENT WAS FORMED TO STOP THEIR ADVANCE ON AMERICA
WASHINGTON DC 9-12-2009 TEA PARTY
GET INVOLVED TODAY
Webmaster Jack Cunningham Sussex, NJ
Below is Jack Cunningham standing with Congressman Joe Wilson at the Morristown, New Jersey Tea Party on November 1, 2009.
" A free people ought not only to be armed and disciplined, but they should have sufficient arms and ammunition to maintain a status of independence from any who might attempt to abuse them, which would include their own government."
- George Washington
Billboard recently established on I-75 just south of Lake City, Florida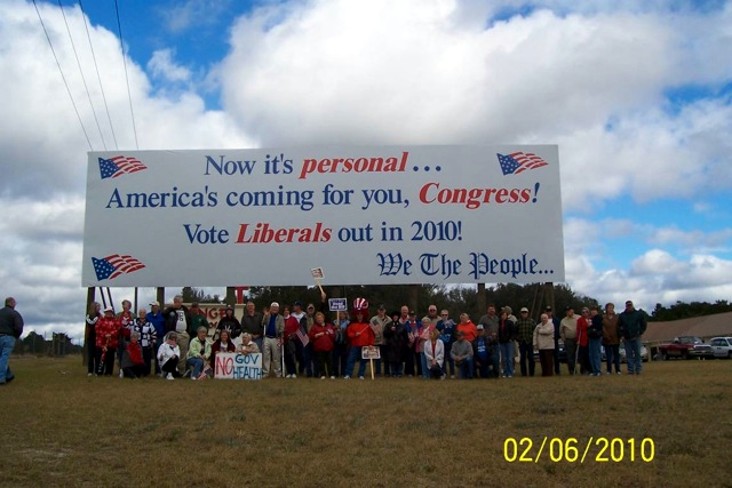 What we do know about Obama is that, since his teen years, he has been mentored by, gravitated toward, and surrounded by the most dangerous sort of America-hating socialists, communists, and Marxists… from Frank Marshall Davis and Saul Alinsky to Weather Underground terrorists Bill Ayers and Bernadine Dohrn, to Rev. Jeremiah Wright, George Soros, and countless radical left college professors.
by Paul R. Hollrah February 1, 2010
Navy Petty Officer Mike Monsoor
WHY WASN'T THIS ON THE FRONT PAGE NEWS?
(AP Photo/David Guttenfelder, FILE)
Nearing The Impossible...
A real David and Goliath story
Eight year corruption battle against his State Government may finally come to light...
http://www.americans-working-together.com/attorney_ethics/id73.html
Above the Law
When does a Superior Court transcript go missing, before it could be typed?
When a state Supreme Court official is being tied for legal Malpractice.
http://www.americans-working-together.com/attorney_ethics/id147.html
This same Supreme Court Official Commits Perjury to Supreme Court (Evidence)
(See if you can recognize the perjury)
http://www.americans-working-together.com/attorney_ethics/id50.html
Disabled Veteran Is Nearing The Impossible...
Eight years of battle is about to be successful.
http://www.americans-working-together.com/attorney_ethics/id73.html
** Americans Working Together **
You be the Judge: A decorated, disabled vet denied justice, due to a Clerical Error or Part of a Cover-Up
USS ARIZONA Marine Remembrance At Pearl Harbor
UPDATE: We saved the Marine Corps Rememberance Memorial in Pearl Harbor From The National Park Service.
From: Colonel John R. Bates USMC (ret)
UPDATE: A couple of years ago, I was the Operations Officer for the Pearl Harbor Visitor Center, on the waterfront between the USS ARIZONA and the USS BOWFIN. The Commandant of the Marine Corps was the featured speaker at the dedication of the USS ARIZONA Marine Remembrance, 10 November 2006. The National Park Service, which administers the USS ARIZONA Memorial is renovating all of Halawa Landing, the site of the Marine Remembrance. The Regional Director of the Natl Park Service Western Region, Jon Jarvis, stated on the local TV news that the Marine Remembrance would be removed. I challenged him on that statement and convinced him that would not happen without a fight. I passed the word to (disabled vet and webmaster) Jack Cunningham (Americans Working Together), who in turn asked his readership to email Jarvis that the entire USMC would make every effort to have him relieved of his duties if he moved that monument. I was copied on many of the emails to him from Marines, their friends and their families that it nearly fried my computer. And...it worked. In order to save his job, Jarvis backed down. The Remembrance now belongs to the USMC and has its' rightful place in direct view of the USS ARIZONA.
Now, Jack Cunningham can use our help himself, as he fights for his due process against a corrupt law firm and state officials who are protecting them.
From: John R. Bates [mailto: ]
Sent:
Wednesday, January 07, 2009 6:55 PM
To:
Subject:
John "Jack" Cunningham
SECOND REQUEST:


Dear Senator Oroho,

I'm writing this request (again) on behalf of Jack Cunningham, a former active duty Marine and Vietnam veteran. Although I've never actually met him in person, simply the fact that he is a fellow Marine in need of justice, I offer to help him in any way I can. As you may know, Marines are like that. Marines take care of Marines.

Although I probably don't know all of the facts pertaining to his case against the State of New Jersey, I know enough to firmly believe that he should be heard in a public forum. His charges are serious. There are claims of abuse of power and cover-up at the highest level of the State government. When such accusations are made, I believe the leadership has no other option than to investigate. Until that is done, all that know of him and his charges will assume that there is indeed a cover-up. Perception is a powerful thing. Hopefully it won't be counter to the truth, whatever that may be.

If this is allowed to continue to fester, the results will be devastating on all involved.

If this issue is not addressed soon, my only other option is to forward this to every Marine website and public forum I can find. That option is not a good one for any of us.

Please do the right thing and give Jack his "day in court."

Very Respectfully, John R. Bates



Colonel John R. Bates USMC (ret)
EVIDENCE AND DETAILS AT: http://www.americans-working-together.com/attorney_ethics/id73.html
AMERICANS WORKING TOGETHER
VA and Army Doctors are BOTH told NOT to diagnose PTSD in Veterans
Washington, Hamilton and LaFayette on the Green at Morristown, New Jersey
It is said that even New Jersey has mountain lions. Checkout the story at: MOUNTAIN LIONS IN NEW JERSEY
Here's a picture of a 260 mountain lion.
Full picture and story at the next link.
http://www.americans-working-together.com/new_jersey/id20.html
Honorably discharged PTSD vet's disability mocked in Supreme Court documents
He was the Plaintiff against a corrupt law firm in a Legal Malpractice case.
http://www.americans-working-together.com/attorney_ethics/id21.html
Should government agencies be the final word on corruption investigations within the same agency? Or is it a Conflict of Interest?